"The World According to Garp, 1982"


"It can be a real adventure having a life."
The World According to Garp, 1982 (Robin Williams), Warner Bros.
What is a "Garp?" According to Hume Cronyn (when informed of his grandson's name), it sounds like a fish. He's off by a consonant, but if the other side of the glass in his particular fishbowl is the world, it's a world T.S. Garp is never permitted to enjoy. Various attempts to improve his condition are undermined by his attention-seeking mother, Jenny Fields (Glenn Close), who is inspired by Garp's desire to become a writer by writing her own book – a speculative satire/self-help tome titled, A Sexual Suspect, that becomes an enormous hit and solidifies her status as a cult-like leader to millions of disenfranchised women all over the world.
Meanwhile, Garp marries and has children with high school sweetheart, Helen (Mary Beth Hurt), and tries to further his own writing career, but is overshadowed by Jenny at every turn. Interestingly, her legion of dedicated followers greet Garp with nothing but disgust, marginalization, and objectification due to his status as a man. These are oddly prescient themes in 2017; those that define themselves by their identities, lack of perceived privilege or status have now become the spirituous bullies of others. One does not have to imagine Garp's frustration in his world to understand what he is feeling. Unfortunately, Irving's story lacks a strong narrative focus, but this has always been a failing of his fiction.
In John Irving's estimation, we (as characters) are tiny little chess pieces inhabiting an immense board. For every decision that Garp makes in the story is based upon the reactions or anticipation of either fellow characters (or pieces) observing him or situations that have arisen without his knowledge or consent. Aside from one tragic incident occuring later in the story, he is essentially blameless in everything that occurs. At least that's how I interpret the story. There is a forever changing and evolving world, and then there are the forced masses, chained to ideals or weighed down by family that keep us stationary and stagnant. Garp is the embodiment of this stagnation.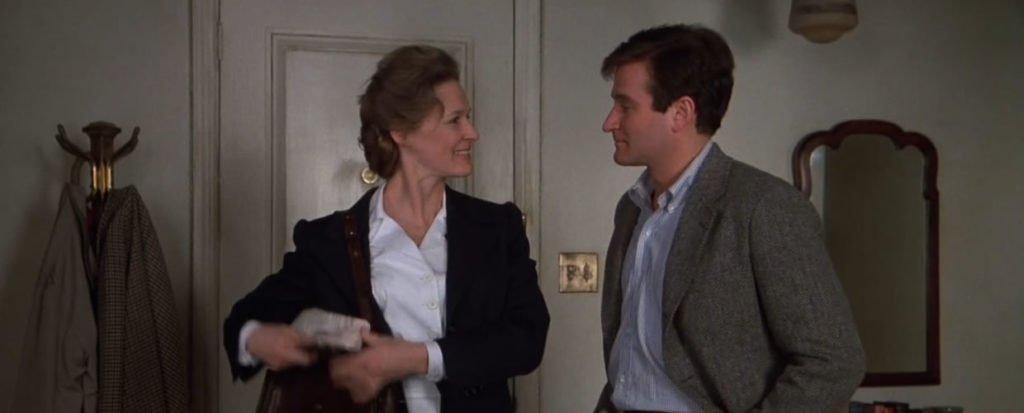 Aside from the curious disconnect between the story's collection of eccentric characters and the audience, Garp is a fascinating, unforgettable personal journey into one man's private Hell. Robin Williams (in an early strong, dramatic performance) is immensely watchable, even as he tries to give us some distance from his comedic stage work. He's not quite there yet as a credible dramatic lead. I think Williams learns more from his capacity for humor in creating a dramatic performance than the other way around. For reference, consider Good Morning Vietnam and Good Will Hunting and compare those characters to Garp. You'll be surprised to see how much he had evolved as an actor.
Glenn Close gives the keynote performance for the film. The characters shift and the narrative turns on her character's every decision. In fact, she's so good in this movie that I absolutely hate her. She creates such a real person in the midst of all the catharsis that you'll swear she's a member of your own family. She has this irritating pleasantness and a robotic smile that you feel she's patronizing her sycophants in addition to her family. Strangely, the most sympathetic performance in the film comes from John Lithgow portraying Roberta Muldoon, a one-time football star who had a sex-change operation and must negotiate the waters of her own fishbowl as "she" tries to connect with fellow human beings in a cruel, prejudiced world.
Our first cable box was a non-descript metal contraption with a rotary dial and unlimited potential (with no brand name – weird). We flipped it on, and the first thing we noticed was that the reception was crystal-clear; no ghosting, no snow, no fuzzy images. We had the premium package: HBO, Cinemax, The Movie Channel, MTV, Nickelodeon, CNN, The Disney Channel, and the local network affiliates. About $25-$30 a month.  Each week (and sometimes twice a week!), "Vintage Cable Box" explores the wonderful world of premium Cable TV of the early eighties.