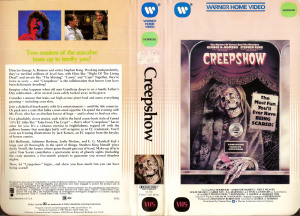 It seems most movies these days are based around comic books and toys, but in
1982, the double-whammy collaboration of Stephen King and George A. Romero,
produced the original comic-book adaptation, "Creepshow", one of the great horror
movies of the early 1980s. Obviously inspired by Max Gaines and Educational
Comics' "Tales From the Crypt", "The Vault of Horror" and later, Mad Magazine,
"Creepshow" gives us five fun stories loaded with graphic violence and intended
for adults only.
George A. Romero, best known for "Night of the Living Dead", the grandfather of
the modern zombie movie, had directed cult favorites, "The Crazies", "Martin",
and "Knightriders". King, reportedly a fan of Romero's work, suggested they
collaborate on "The Stand" and wrote "Creepshow" as a sample screenplay to see if
the two could successfully work together. This was, no doubt, due to the
disappointment he felt from Stanley Kubrick's adaptation of King's "The Shining".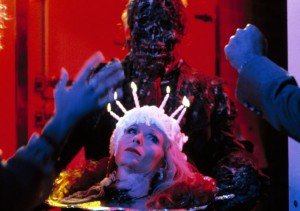 "Creepshow" was an anthology of five stories about familial revenge, hapless
hillbillies, a tasmanian devil in a crate, the consequences of infidelity, and
cockroaches (lots of freaking cockroaches!). What really propels the stories is
a wicked sense of humor, dark comedy, and lots of gore. A great cast (Ted Danson
and Ed Harris in early roles, Leslie Neilsen in one of his last dramatic roles,
Hal Holbrook, Adrienne Barbeau, Fritz Weaver, and E.G. Marshall) rounds out the
carnage, and though the film only earned modest reciepts at the box office, it
did very well in pay TV and home video markets.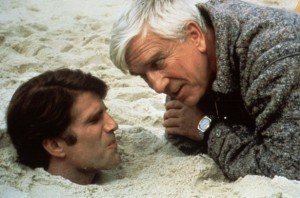 Romero's lighting, use of shadow and bold primary color along with the continuity
device of using comic book cells and the book-end framing story of an abusive
father and his sociopathic son (played by Stephen King's son, Joe) deconstruct
the horror genre and places it in a post-modern context, much like Romero would
do with "Day of the Dead", the underrated "Monkey Shines", and "Tales From The Darkside" (an anthology television series based, in part, on "Creepshow").
"Creepshow" was followed by two lackluster sequels, Creepshow 2 in 1987 (based on
stories, not a script by King), and the "unofficial" no-budget Creepshow 3 in
2007. Romero would later work with Stephen King for "The Dark Half" in 1993, but that film was shelved for two years due to Orion's impending bankruptcy.