"Irreconcilable Differences, 1984"


"This Civil War ain't gonna get me down. I'm taking my act to a brand new town. This belle rings in old Atlanta. I'm gonna find myself a brand new Santa!"
Irreconcilable Differences, 1984 (Drew Barrymore), Warner Bros.
At the end of a particularly biting monologue delivered by Drew Barrymore to her befuddled, self-absorbed parents (Ryan O' Neal, Shelley Long), she tells them they have "irreconcilable differences." My mother jumps up, points at the screen and shouts, "What a little bitch!" I'm like, "Why?" I don't think she gave me an answer, except to say Drew should have respect for her parents. In her world, parents were always right. Children were meant to be seen and not heard. Shut up, Drew! I don't agree, and I am a parent. She has a valid point to make. When a child commits an atrocity; something we read about in the morning papers, my first question is always, "Where were the parents?" This must be the disconnect between the baby-boomer generation and their generation X offspring. They were too busy living second childhoods to care. Drew, essentially, takes her parents to court so that she can emancipate herself or, at the very least, get the Hell away from them.
Generation X-types aren't completely innocent in the exchange either. They tend to spend way too much time playing video games, brandishing new tattoos, and reading comic books when they should be perfecting basic skills like combing their hair and shaving their neck-beards, but I kid! I didn't mean for this to become a speech, but I always mean for my tone to be sarcastic. Little Casey Brodsky (Drew) hates her parents, or maybe she tires of their antics. Dad Albert is an up-and-coming filmmaker. His wife, Lucy, assists him to the point of rewriting his scripts (while not receiving credit). It must irk her to see their success attributed only to her husband. After a couple of hits, Albert is the toast of the town. He hires aspiring actress, Blake (Sharon Stone, in an early role) for his next film, and when it becomes obvious to Lucy he has subscribed to the Peter Bogdanovich playbook, she divorces him.
Bogdanovich (for those of you who don't know) famously courted the beautiful Cybill Shepherd despite being married to production designer Polly Platt. The affair destroyed several relationships and killed Bogdanovich's career after the failure of his bizarre musical, At Long Last Love. Married (at the time) writing couple, Nancy Meyers and Charles Shyer parody this opus with Atlanta, a musical version of Gone With The Wind. I was never a fan of Gone With The Wind (I think it's a terrible movie), but I think I would've been interested in seeing Atlanta. This misstep also kills Albert's career and Blake dumps him. As the meteor of his success collides with Earth, Lucy's star rises. She writes a tell-all memoir of her time with Albert, hilariously (and subversively) titled, He Said It Was Going To Be Forever, which becomes an enormous hit. There's a nice bit of visual symmetry with all of Albert's belongings being shuffled out of his mansion in a U-Haul as Lucy moves her stuff in.
What charms me about the movie is that Albert and Lucy still love each other, and they do love their daughter, even if they don't know how to show it. They seem to use Casey as ammunition in their feud. Albert suffers what appears to be a heart-attack. Lucy rushes to his side at the hospital. She leaves in a huff after learning it was an anxiety attack. Albert seduces Lucy into a one-night-stand so that he can get the option to direct her memoir, which infuriates her. This is enough material for the court to determine that their housekeeper, Maria, should be given guardian status of Casey. My mother's instinctive reaction to the material is not an isolated story. Irreconcilable Differences divides audiences along age (and gender) boundaries, and if you examine the film closely, you'll see that whenever Ryan or Shelley are on the screen together (or even separately), Drew is shunted off to the side, filling the background of the scene.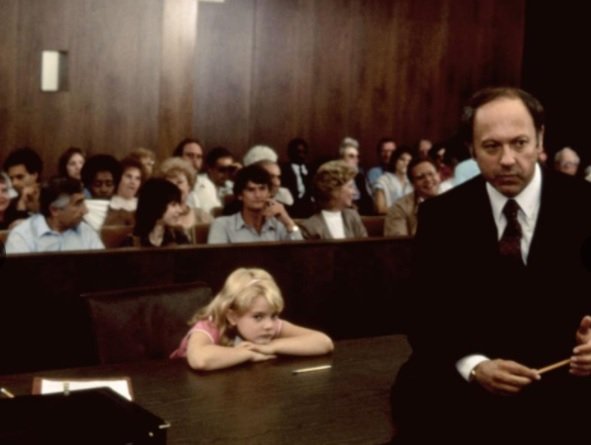 Meyers and Shyer craft an interesting take on the dissolution of a marriage, drawing on inspiration from old Hollywood fables and the break-up of writers Nora Ephron and Carl Bernstein in Ephron's languid memoir, Heartburn, but told from the point-of-view of a child. As an adult, it is difficult to understand Drew's predicament. She wants for nothing. She's obviously given adequate shelter and safety, and we must always remember that children tend to be preoccupied (to a pathological level) with their creature comforts, yet I don't agree with the "little bitch" assessment. She's more precocious than anything else. She's wonderful to watch in the movie, though she has a tendency to mumble and not seem to understand much of what she says, but she was nine years old at the time of shooting, so I can't fault her. She is, at her core, genuine.
Our first cable box was a non-descript metal contraption with a rotary dial and unlimited potential (with no brand name – weird). We flipped it on, and the first thing we noticed was that the reception was crystal-clear; no ghosting, no snow, no fuzzy images. We had the premium package: HBO, Cinemax, The Movie Channel, MTV, Nickelodeon, CNN, The Disney Channel, and the local network affiliates. About $25-$30 a month.  Each week (and sometimes twice a week!), "Vintage Cable Box" explores the wonderful world of premium Cable TV of the early eighties.