"Blame it on the war – it's everybody's excuse."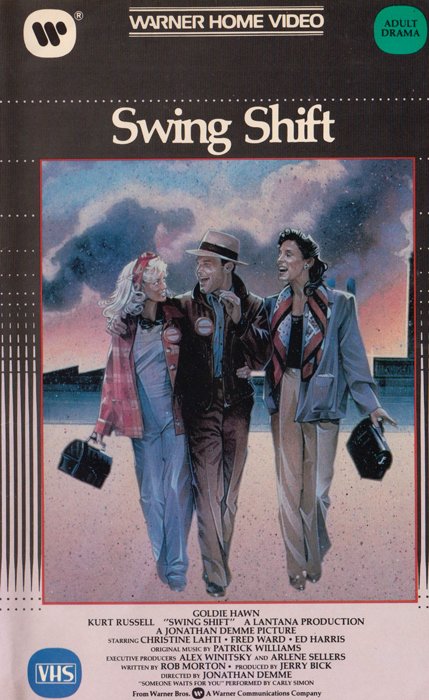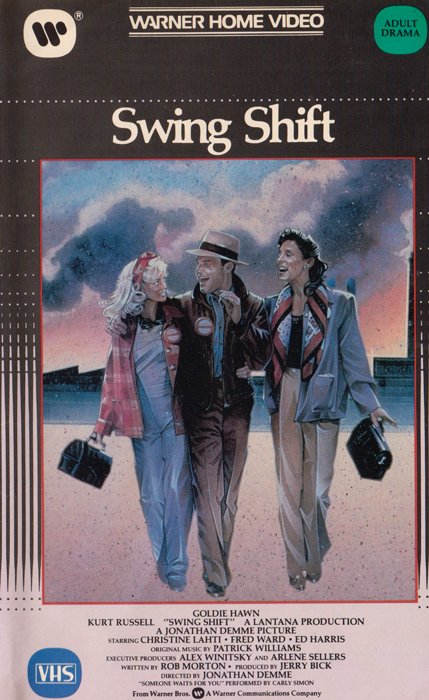 Swing Shift, 1984 (Goldie Hawn), Warner Bros.
Goldie Hawn's husband (Ed Harris) leaves for war after the attack on Pearl Harbor, and rather than wait for him to return, she takes a job as a riveter in a munitions factory. Jonathan Demme's 1984 film, Swing Shift, brings to the forefront the iconic image of Rosie the Riveter: a call to arms for women who were not required to serve in the Armed Forces but, nevertheless, wanted to help the war effort. The Government, at that time, launched enormous promotional campaigns on the home-front, including victory gardens, rationing stamps, and war bonds. It was a way of not only boosting confidence stateside but also reducing waste and bolstering local resources.
Goldie, while initially loyal and devoted, begins to see the War taking a toll on her fellow employees. Co-worker Holly Hunter receives news that her husband has died. This is when she begins to spend more time with leadman on the line, "Lucky" (Kurt Russell) and eventually has an affair with him. Unfortunately, the way the film is edited, there is very little remorse for her actions. I assume women at the time of the movie's release saw Goldie's irresponsible attitude regarding her infidelity as a ticket to enlightenment and self-reliance. Audiences would probably assume Ed Harris is dead, thus leaving her free to pursue her romantic entanglements. It doesn't happen that way.
Ed Harris does indeed return home in one piece and very quickly figures out his wife has been unfaithful. Because of various issues with the editing of the film (according to lore, Hawn and Demme fought over the tone, where she wanted Swing Shift to be a light romantic comedy), another clandestine affair conducted between "Lucky" and Goldie's friend, lovelorn Hazel (excellent Christine Lahti), is virtually swept under the rug. As a result, "Lucky" comes over like an asshole, which is an interesting choice for a movie like this. There is a fascinating character piece hidden inside this expensive period costume drama, and while I have no doubt Demme envisioned a smaller drama, he simply didn't have the clout he would ferment in later years to effectively see his ideas come alive.
Sourced from the original 1984 Warner Bros "clamshell" VHS release. The movie continued to receive different format releases, and is available in Beta, DVD, Laserdisc (using the same art design as the clamshell release) and Blu Ray formats.  As with most (if not all) WEA VIDEO CANADA clamshell releases of Warner properties, the paper is flimsier than U.S.A. releases.  The paper also has wax stains, and the label on the tape appears to have been printed for Beta tape.  The accompanying essay takes great pains to promote Swing Shift's cinematography, production design, and costumes, as well as Jonathan Demme's interesting vision of film.  "But perhaps the most moving thing about Swing Shift is its unique tone — the same gently ironic affection Demme displayed in his earlier hit Melvin and Howard.  'I'm after a reflection of life,' Demme explains, 'which is not exactly comedy and not exactly drama, but a blend of both.'"
Perhaps that's my central complaint in the majority of Demme's work.  His films shift uneasily from comedy to drama to horror to psychological terror, and while I understand that life is often a mixture of these conditions, it makes for an unnerving cinematic experience. Something Wild springs to mind  as another example of this problem, as Andrew and I noted on our podcast Extreme Cinema when we discussed Demme's films.  Demme's is a career interrupted by mass appeal and pop culture distraction. Those who create the work do not succumb to that work. They simply continue until they die. I always felt Demme had a masterpiece in him, but he never had the chance to realize it.
Our first cable box was a non-descript metal contraption with a rotary dial and unlimited potential (with no brand name – weird). We flipped it on, and the first thing we noticed was that the reception was crystal-clear; no ghosting, no snow, no fuzzy images. We had the premium package: HBO, Cinemax, The Movie Channel, MTV, Nickelodeon, CNN, The Disney Channel, and the local network affiliates. About $25-$30 a month.  Each week (and sometimes twice a week!), "Vintage Cable Box" explores the wonderful world of premium Cable TV of the early eighties.