An Interview With Martin Mander
This is art when you look at it; a conglomeration of circuitry, the beast under the hood like the Hemi in the Plymouth Barracuda bubbling and percolating and ready to peel.  Martin Mander is an artist, and an engineer.  He is an innovator, and an inventor.
To look at his "Retro-Future TV Conversion", an old Sanyo television housing the guts of an LCD monitor, I can appreciate his love of old-school design aesthetics juxtaposed or, more accurately combined with high technology, forming a beautiful balance of mechanization.
There's no arguing the world of our future has given us incredible new technologies.  We have cell phones.  We have enormous televisions, and a variety of applications with which we choose and view our respective entertainment and products, but the culture of design (for me, at least) reached it's nadir decades ago.
Think of the Atari 2600, the faux-wood panel design and the simple delight of a joystick with a big red button.  True, nostalgia may guide our eyes (and hearts) when we reach a certain age and pine for lost youth, but I believe when our resources are limited, we turn outward and desire a pleasing package.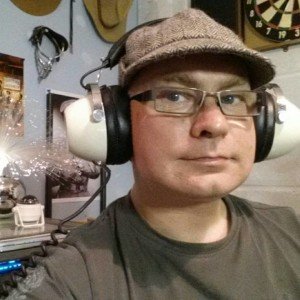 Martin has brought that design together with the inner workings of a (comparatively) ancient technology to create such unusual items as the "Raspberry PI Media Centre", a reworked Sanyo VHS VCR (top loading!) with the backing of a high definition screen.
First, I want to ask you about your background.  Where (and how) did you learn electronics as they apply to these projects and your creations?
I'm not sure I made a conscious decision to "get into" electronics, as a child I just really enjoyed taking stuff apart to find out how it worked. My Dad was a craft, design and technology teacher at the time so there were always a lot of cool tools and projects around, and a well-equipped workshop to tinker in.
A friend and I would sometimes pool our money to buy a circuit kit to make, which is probably where it started getting interesting – our biggest success was an FM transmitter, you could tune a bunch of radios in a busy shop to its frequency then stand outside and prank the shoppers.
More recently our flat screen TV broke and on dismantling it I was struck by the tiny amount of space taken up by the circuits, I think this was what got me thinking about how much modern electronics you could fit inside an old piece of tech. Really I've just learned as I've gone along, building on the basic skills I learned at school to move a project forward.
Would you say that you are drawn to the aesthetics, the design, or the machinery that exists inside the box?
My favourite projects combine a strong retro design with really modern components inside, so I'm usually after something unusual from the 70s / Early 80s that has a classic look about it, so it's aesthetics mostly.
It's really hard to find good retro tech at a reasonable price though, so I tend to pick up non-working items which need some help to make their original charm show through. This also makes me feel less bad about tearing classic devices apart.
When I looked at your creations, I was reminded of a quote by Fellini (this may be misattributed or paraphrased) where upon first viewing Kubrick's "2001: A Space Odyssey", he said, "Computers are beautiful.  Rip a man apart and he is hideous, gruesome.  Dismantle a computer and it remains beautiful."  Is this how you feel about the machinery and technology you seek to improve?
I'm not sure I'd go as far as beautiful but I often have a real feeling of respect for the original designers when tearing down old tech, sometimes the insides are very elegantly put together, using consistent screw sizes, labelled circuit boards and so on.
The VCR was a great example of this, as it effectively combined complex electronics (for the time) with motors and levers to physically manipulate magnetic tape in a totally reliable and precise way.
There is a tremendous subculture devoted to technology from the past.  Mark Jeacoma, the administrator and co-creator of VHS Rewind! collects vintage computers and gaming systems.  I know of many other people who also collect antique electronics.  I keep an impressive assemblage of Warner Brothers VHS clamshell tapes.  Do you collect items that you do not integrate into your creative projects?
Absolutely – it's an eclectic collection but I find it especially hard to resist vintage telephones, radios and TVs. Often these will stay unconverted if they're fully working and I don't have the heart to dismantle them, other times I'll pick something up purely for the feeling of nostalgia, like the ZX Spectrum computer and bag of classic cassette games I bought most recently. The only trouble with collecting older items is storage – I picked up three top-loading VCRs recently and they take up a vast amount of shelf space!
Do we collect such things to remind ourselves of our youth, or is there a practical curiousity in wanting to know how things work, how systems are created and maintained before we fully understand their applications?
In my case it's very much a reminder of my childhood and teenage years, some of the Pioneer hi-fi separates I use every day have been in the family since the 1970s and the dancing VU meters really bring back the carefree days of vinyl and cassette tapes.
I guess my conversions make a practical statement of how much technology has changed since then, fully embracing new developments but still with a misty eye on the early days of practical home technology.
Now that we've re-explored the past, let's look into the future.  We've moved away from the analog world, and are in the full embrace of this digital grip (like my analogies?).  I have a friend who makes a living in web development and information systems, and he tells me it's only a matter of time before physical media is completely vanquished and everything will be a collection of bits, all entertainment will be streaming, and discs, cartidges, tapes, and cassettes will be museum pieces locked up in vaults, consigned to oblivion, thus the concept of ownership will no longer exist.  Thoughts?
I have a similar view if I'm honest, we no longer have a DVD, CD or cassette player in the house and all our media is stored on network or cloud storage, consumed via streaming boxes, phones etc. I think the demise of physical media is a little way off yet, but technology is certainly headed in that direction.
The culture of ownership is the main hurdle, we've grown accustomed to collecting media like books, having a physical collection that sits on display and says something about the personality of the individual. It's hard to make the shift to pure content as album and case art are often part of the joy of our collections – seeing the original "Empire Strikes Back" cassette image you posted on Facebook recently transported me right back to the days of browsing and renting videos from an actual shop.
I do quietly mourn the demise of VHS though, even our local charity shops have stopped accepting VHS tapes as donations now, and when you consider how many are out there it's a vast amount of plastic doomed for the landfill. As a maker I'd love to come up with a practical and modern re-use for these old tapes so they can live on.
Do you enjoy the new technology?  Blu-Ray?  Ultra HD?  The more advanced gaming systems?
I do really enjoy keeping up with new developments, I think the Chromecast is my favourite at the moment as it offers new, practical and fun entertainment possibilities, it's great to mirror a phone screen on the big TV for looking at maps, exploring Street View and creating multi-user YouTube playlists.
I'm pretty sceptical about blu-ray, I think streaming will make it the Betamax of the HD world sooner or later. We don't do a lot of gaming, the kids have DSs and an original Wii, and I dip into the Playstation 2 occasionally – though mostly to play old Atari games!
Finally, to my mind, it seems we are given wonderful pieces of technology that, what is called, "backward-compatible", but only to a point, but the technology is not "forward-thinking" – that is it seems to become obsolete in a twenty or even fifteen-year cycle, and then newer, supposedly better technologies come along.  What would you like to see in the future as this technology develops?
Part of me would like to see products deliberately designed in a more universal and modular way, so that individual parts can be upgraded rather than having whole devices that are essentially disposable – although having said that the availability of cheap modern devices is what makes my conversions possible!
On the content side I think a universally aggregated "library" of music, books and video is coming pretty close, which will enable easy consumption of any content without having to choose between different providers like Netflix, itunes and google. My phone's already starting to do this in a clunky kind of way, offering me slightly creepy recommendations based on my tastes and linking off to different online providers to grab the content.
Here are some links to Martin's incredible contraptions:
http://www.instructables.com/id/1981-Portable-VCR-Raspberry-PI-Media-Centre/
http://www.instructables.com/id/Retro-Future-TV-Conversion/
http://www.instructables.com/id/Upcycle-a-70s-TV-into-a-Monitor/