Vintage Cable Box: Harold and Maude


"Well, if you want to sing out, sing out
And if you want to be free, be free
'Cause there's a million things to be
You know that there are…"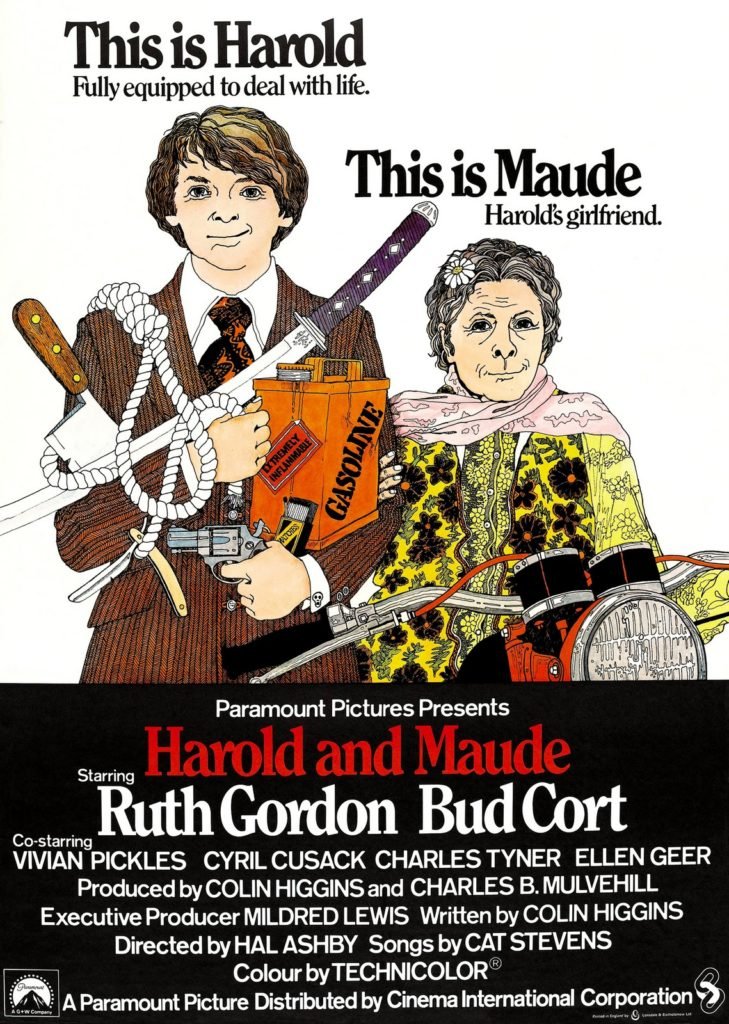 Harold and Maude, 1971 (Ruth Gordon), Paramount Pictures
Never was there a film that was such a commandingly thunderous and exuberant exultation of life and the joys of living that was also so unbelievably, jaw-droppingly depressing as Harold and Maude. It's a movie that should come with a warning label that would read: "The ending of this film will make you feel as though you were punched in the stomach." It's also a movie so well made and so inspiring that it quietly influenced a generation of filmmakers yearning to construct their own emotional paradoxes. Filmmakers like Wes Anderson, David Gordon Green, and Zach Braff have all attempted (with varying degrees of failure) to craft their own versions of Harold and Maude. I would say Wes Anderson has come closest to those eccentric qualities. Ruth Gordon may be the first incarnation of Nathan Rabin's modern-day manic pixie dream girl.
It's an understatement to call Harold (Bud Cort) a depressive personality.  He goes so far beyond the part-and-parcel, the Sturm und Drang of modern clinical depression that to witness his antics in this new, over-prescribed age of neuroses would lead to detention and eventual residence in a padded room.  I interpret his staged suicides as daydreams where Harold obsesses about killing himself, while his mother (appropriately detached and oblivious Vivian Pickles) ignores him.  He drives a hearse.  You would label him a "goth" for his fascination with funerals and graveyards.  It is at one such funeral that he meets "Dame" Marjorie Maude (heartbreaking Ruth Gordon), similarly fascinated with ideas of death, but for me, when I look at her, I see an old woman grateful for her life, and not Harold's young man isolated in a choking and bitter loneliness that only death could release.
There are splendid moments of literalism in Harold's center-piece (oft-imitated and revered) suicide scenes.  He sets himself on fire, chops off his hands, and engages in ritual Japanese suicide.  His mother keeps trying to set him up with attractive young women in the hopes he'll take a wife and remove his maudlin presence from her house.  Instead, Harold becomes attracted to Maude.  She opens him up, teaches him to play banjo and appreciate art.  We know very little about Maude except that she grew up in Vienna and escaped a Nazi concentration camp.  This is a clue-in to her behavior, her motivation, and her need to make Harold a special project.  This is a love story about two like-minded and lonely people who find each other amid the fog of creeping derision and spiritual insulation.  Bud Cort and Ruth Gordon have remarkable chemistry, and are surprisingly sexy to watch in their courtship.
Dreamed up by Colin Higgins as part of his thesis, the Harold and Maude script found it's way into producer Edward Lewis' hands, who passed it on to Hal Ashby to direct, provided he met with Higgins' approval.  I remember first seeing the film as part of a Hal Ashby retrospective on The Movie Channel, which included The Last Detail, Bound for Glory, Let's Spend the Night Together, and Being There.  While not a hit for Ashby, it developed a strong cult following in the ensuing years, and deservedly so.  Years later, I was privileged to see the movie with my then-girlfriend (now wife) at the IFC Center in New York City on a triple bill with Martin Scorsese's The King of Comedy and John Waters' Polyester (complete with scratch-and-sniff "Odorama" cards).  At the end of the movie (I won't spoil the detail that led him here), Harold drives his hearse off a cliff, and just when we think he has finally succumbed to his desire to snuff it, Ashby pans up and we see him standing on the edge of the cliff playing his banjo and singing.  He turns and walks away.  This movie floored me.
Our first cable box was a non-descript metal contraption with a rotary dial and unlimited potential (with no brand name – weird). We flipped it on, and the first thing we noticed was that the reception was crystal-clear; no ghosting, no snow, no fuzzy images. We had the premium package: HBO, Cinemax, The Movie Channel, MTV, Nickelodeon, CNN, The Disney Channel, and the local network affiliates. About $25-$30 a month.  Each week (and sometimes twice a week!), "Vintage Cable Box" explores the wonderful world of premium Cable TV of the early eighties.