Vintage Cable Box June 1984: Megaforce/Doctor Detroit/There's No Business Like Show Business/Marilyn
Megaforce, 1982 (Barry Bostwick), 20th Century Fox
"I just wanted to say goodbye and remind you that the good guys always win, even in the eighties."
Hal Needham first met Burt Reynolds while doubling for him on Gunsmoke. The two forged a creative alliance that would last well into the '80s but started somewhat modestly in 1974 when Needham worked as a second unit director on Robert Aldrich's The Longest Day. The movie was an enormous hit and led to Smokey and the Bandit, the second-highest-grossing film of 1977 under … well, you know.
Needham developed a reputation as a solid action movie director with Hooper, Smokey and the Bandit II, and The Cannonball Run. Needham was to Reynolds as Scorsese was to DeNiro, as Burton was to Depp. After The Cannonball Run's success, Needham turned to Hong Kong financier, Golden Harvest (possibly through Jackie Chan), to produce Megaforce, a big budget action film starring Barry Bostwick (yes, Brad Majors of Rocky Horror fame) and Persis Khambatta (yes, the bald chick from Star Trek: The Motion Picture).
Ace Hunter (a bleached-blonde Bostwick) heads up a sophisticated paramilitary/rapid deployment organization called Megaforce, through which Sardun's General Byrne-White (Edward Mulhare, Devon from Knight Rider) and Major Zara (Khambatta) commission services as well as state-of-the-art tactical equipment to aid them in their war with rival Gamibia. In case you couldn't tell, these are analogues for the U.S. and the Soviet Union.
Two major powers in decades-long skirmishes, and both nations have finally advanced to the point where mutually-assured-destruction has become a possibility. Not if Barry Bostwick's awesome helmet hair and Wolfman Jack beard have anything to say about it! This seems like a bad idea. Megaforce is basically a handful of soldiers under Hunter going against an entire nation, whose armies are led by Hunter's rival and former friend, Guerera (played to mustache-twirling perfection by Henry Silva).
I don't understand why fictional nations are used in place of the real thing, considering Ace has a U.S. flag patch on the shoulder of his extremely tight jumpsuit. I'm serious, kids. This jumpsuit leaves NOTHING to the imagination. He'd make Dr. Frank-N-Furter blush. It's too nice a job to rush! He looks like an aerobics instructor. This isn't quite the future, but it exists inside the world of science fiction action, similar to Mad Max, but lacking that movie's heart, incredible visual sense or low budget.
Megaforce cost something in the neighborhood of $20 million, which is staggering considering the movie looks like crap. The practical visual effects aren't terrible, but the green screen work is dreadful and unintentionally funny, and Jerrold Immel's score is insanely cheesy. Some of the matte work is clunky as well (particularly the flying motorcycle, for crying out loud).
I suspect it might've been the use of real aircraft and weaponry that caused the budget to skyrocket. Some of this reminds me of early James Cameron; Aliens and The Abyss specifically, but less intense. There are a lot explosions and guns firing and car chases (all hallmarks of Needham's previous work), but it seems strangely cartoonish and anemic. There's a great cast at work here. Silva chews the scenery, as does Bostwick, and Michael Beck, fresh from Xanadu playing Ace's right-hand-man, Dallas.
It's nice to see George Furth right after appearing in The Cannonball Run as Megaforce's "Q"-like technology developer. As fun as Bostwick can be, he's all wrong for the role of Hunter. Bostwick is a Broadway singer and a dancer. In fact, Needham cast him after seeing him on stage in The Pirates of Penzance. He was Danny Zuko in the original Broadway run of Grease. He's not an action hero. This movie needed Marc Singer or possibly Burt Reynolds.
Needham cameos as a technician. The "Megaforce" theme song (a true highlight) was rewritten as "Calling To You" for Frehley's Comet debut album, released in 1987. This is a supremely stupid movie, but it's a lot of fun. There are even the standard outtakes you'd except from a Hal Needham movie. Needham would go on to make Stroker Ace, Cannonball Run II, and Rad.
Mark and Chris talk about Megaforce.
Doctor Detroit, 1983 (Dan Aykroyd), MCA/Universal
"I make adjustments to the human spine."
Doctor Detroit was a movie I had not known about until it premiered on cable television; Cinemax specifically. I had not seen advertisements or trailers for the movie, but I knew if Dan Aykroyd was in it, it had to be funny. He can make the most painfully bad movie much more palatable —even Loose Cannons. In reviewing the movie, and looking at my notes, I came to the conclusion that most movies are given MPAA ratings for tone more than content.
There have been more than a few movies I've seen recently that appeared harmless to me but were given restricted ratings for tone. A few simple edits, and these movies could be seen by children. Of course, this movie is about pimps and prostitutes, so you should probably exercise caution. Every morning Dan Aykroyd's professor Clifford Skridlow, power-walks six miles to Monroe College, where he teaches comparative literature.
Smooth Walker, a big-time pimp (played by Howard "Johnny Fever" Hesseman) and his gaggle of Benetton-Ad prostitutes, run afoul of local crime boss, "Mom" (Kate Murtagh). He owes "Mom" $80,000, and he tells her he can't pay because he's already into another seedy character for much more money: the fictitious "Doctor Detroit," which he makes up on-the-spot, referencing a photograph and a calendar in Mom's office.
Now it's up to Hesseman and his bevy of beauties to create the man behind the myth, and they choose none other than our power-walking professor, who has problems of his own, not the least of which is making sure a top endowment for his University is received before the college is closed. He shows them a good time at an Indian restaurant, and Hesseman shows Aykroyd an even better time in his penthouse apartment later than night, which ends with a bacchanal in a hot tub.
The next morning, a hungover Skridlow, is called to action when one of the girls is arrested. In a hilarious bit, he assumes the identity of a southern lawyer, complete with Colonel Sanders bow-tie and affected accent. After a quick trip to the college's drama department, he assembles a costume (the contents of which are a wild wig of hair, glasses, shiny white shoes, a knight's gauntlet and vambrace, and a lime-green leisure suit) and shakes "Mom" down, putting her in the hospital.
He has a dream straight out of Freud that recalls the character he played on Saturday Night Live: Fred Garvin: Male Prostitute as well as one-half of the Wild & Crazy Guys with Steve Martin. Would-be-pimp movies were a common theme in the early eighties. We had Risky Business, The Rosebud Beach Hotel, and Night Shift, but Aykroyd's talent carries these proceedings.
If it were not for the content, this could've easily been a Peter Sellers movie. Aykroyd is having tremendous fun in this role and in the various characters he concocts. An amazingly gifted actor, writer, and comedian, Aykroyd can be at times funny and tragic, intellectual and ineffectual, a hedonist, and a Zen monk, a poet, and a soldier. T.K. Carter (of John Carpenter's The Thing) plays Walker's chauffeur, Diavolo.
The girls that make up Walker's ladies of the night are Fran Drescher, Donna Dixon, the future Mrs. Aykroyd, who appeared with him in Spies Like Us and The Couch Trip, Lynn Whitfield, who appeared in Eve's Bayou, and Lydia Lei, who had previously appeared in Hammett. George Furth returns as Clifford's beleagured father, Arthur. Michael Pressman would later direct Teenage Mutant Ninja Turtles II: The Secret of the Ooze. Look for cameos from Blackie Dammett (National Lampoon's Class Reunion) and James Brown.
There's No Business Like Show Business, 1954 (Ethel Merman) 20th Century Fox
"You start worrying about your kids the day they're born and you never stop. Even after they bury you, I bet you never stop."
A couple of Marilyn Monroe movies show up in the HBO/Cinemax guide. I've only seen a handful: Some Like It Hot, The Seven Year Itch (my favorite of her sex comedies), The Misfits (a personal favorite), and Monkey Business. There's No Business Like Show Business isn't a typical Marilyn Monroe movie. It's more a tribute to musicals, much like Singin' In The Rain is a tribute to the early days of talkies.
This is a big Cinemascope show, which is unusual given HBO and Cinemax did not show movies in letterbox format at the time. It's possible Woody Allen's Manhattan might've been the first. To see the movie in primitive pan-and-scan would chop off the sides of some pretty impressive set pieces designed to sell the widescreen format to audiences at the time.
Leon Shamroy's photography is composed mainly of wide shots impossible for television to duplicate. It's almost a non-stop musical with brief interruptions for story. Married entertainers Ethel Merman and Donald O'Connor tell the story of how they got their start in the business, how their kids (among them Mitzi Gaynor and Johnnie Ray) got into the act, and how they managed to stay together.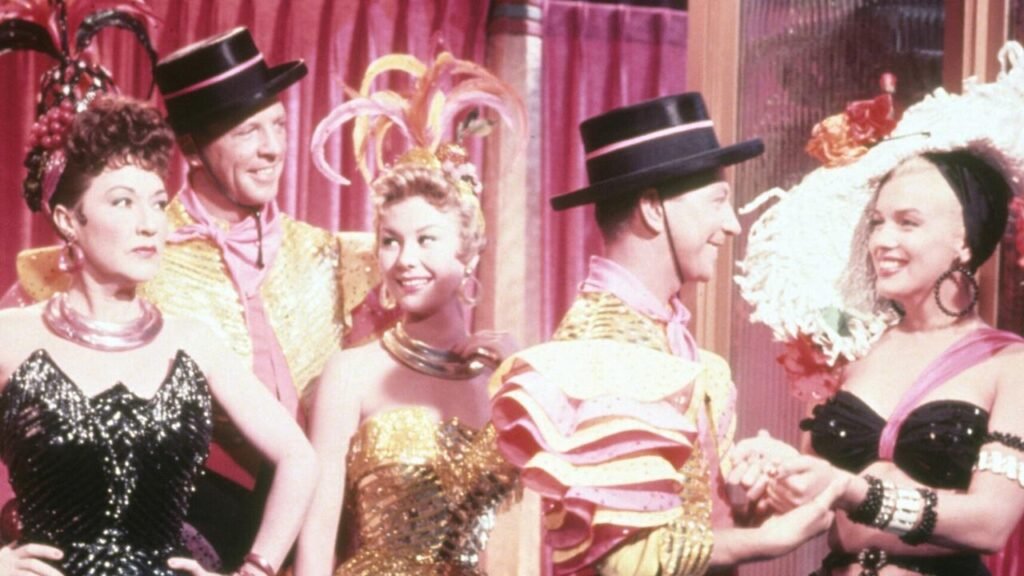 The behind-the-scenes stories are more interesting than the movie. Monroe was paid $3,000 a week, and she only agreed to appear in the movie if Fox would move forward with The Seven Year Itch as her next project. Sheree North, who appears in the next movie on the list, was waiting in the wings to replace her as the next big thing. In the old contract days of Hollywood, studios owned their players and never let them get out of line.
Fox used Monroe to promote the movie, but because of the huge (for the time) budget, There's No Business Like Show Business lost money until it started playing on television. Critics thought her presentation grotesque and praised Gaynor instead. Ethel Merman was intimidated by her sensuality and asked costume designer, Travilla, to create costumes that would compliment her shape.
Being what amounts to a day player on a big Hollywood musical, Monroe isn't given many opportunities to shine, especially when she's consumed by an incredibly talented and versatile cast. Entertainers like these could sing, dance, and act, and they never phoned it in. It's amazing to me how hard critics were on the movie, but I guess we had higher standards back then.
Marilyn, 1980 (Catherine Hicks) ABC
"You're a natural, Norma Jean!"
Isn't Marilyn Monroe more of a myth than anything else? The woman under the bleached, blonde hair and the lipstick is Norma Jean Baker; somebody you actually knew. Maybe you called her Norma Jean. Do you think the Hollywood people called her Marilyn? Did her intimate relations call her "Norma Jean?" Did Joe DiMaggio or Arthur Miller call her "Norma Jean," or did they just stick to Marilyn because it was easier?
There was a movie a few years ago that purported to tell her story by using different actresses to portray facets of her life and career. For example, Ashley Judd played the young, naive girl of red locks while Mira Sorvino played the celebrity incarnation. Norma Jean & Marilyn was reminiscent of Todd Haynes' Bob Dylan biographical pastiche, I'm Not There. Some celebrities can't live unless a camera is rolling nearby. Warren Beatty said that to Madonna one time.
There's nothing under the skin but a cold, mechanical heartbeat. It is their curse that no one will ever see them but for the celebrity they inhabit, and maybe that isn't fair, but it's also the ultimate condition of the Faustian bargain they make for fame and fortune. Most of us don't have to trade in our souls. With celebrity, that's all they have of any value. I don't know if Norman Mailer understood that when he wrote the book, Marilyn: A Biography, in 1973, but one idea he advanced was that Monroe's death in 1962 seemed suspicious, to say the least.
He later recanted, claiming he used that angle to sell the book. Seven years later, Marilyn: The Untold Story, starring Catherine Hicks, would premiere on ABC. I never saw it on regular broadcast television. Instead, I saw it on HBO several years later. I remember being impressed not only with Hicks' performance (I didn't automatically peg her for Monroe, but she made me forget she once saved a couple of humpback whales) but also the period-specific cars and locales.
This was a fairly prestigious production for television; a fair, if clinical eulogy delivered by Marilyn herself in the form of a memoir to her lawyer during her last days: June of 1962 right after turning 36. Fox had sued her for taking sick leave during filming of Something's Got to Give. She starts the story at the point when she was little girl (played brilliantly by Tracey Gold) and witnessing her mother, Gladys' (Sheree North) paranoid schizophrenia.
She is moved around to different foster homes where, based on her recollections, she is either treated with absent contempt or possibly abused, sexually or otherwise. It's possible Mailer (and teleplay writer Dalene Young) are making the point that the breakdowns of her later life were attributed, genetically, by her mother's mental illness. I brought up Sheree North earlier. This is interesting casting.
Sheree North was what was known as an "instant threat replacement." This is when a studio was dealing with a temperamental actor or actress, and would have what I can only call "understudies" in place to make sure the movies got made. North was brought in by Daryl Zanuck to substitute for the increasingly undependable Monroe. What I found interesting was that, as a redhead, she wasn't interesting to the studio executives.
In constructing the celebrity facade of Marilyn, they removed everything that was interesting about her. They turned her into a cosmetic fantasy; again, something that isn't real. Something you don't know. Hicks does a wonderful job almost making her a real person, but there's too much of a self-awareness in her eyes; a self-awareness I regret the real Ms. Monroe never possessed.
She's also not quite as statuesque and sculpted, but that's fine. The one thing she does that no other actress has been to able to lick is the loneliness. Sometimes I think she was the loneliest woman in the world. She is courted by high-profile agent-to-the-stars, Johnny Hyde (Richard Basehart, in one of his last feature roles), with whom she falls in love, and becomes the toast of Hollywood in short order.
The movie glosses over some of the more problematic aspects of Monroe's life. For example, her hopping from bed to bed, sleeping with men who had the power to further her career. I should note that this is a truncated version of the original television movie that premiered on September 28, 1980. It was common practice to re-edit TV movies for theatrical release in Europe and other territories, so a good 30 minutes was taken out of this film, and the title was cut short as well. This version also includes scenes of nudity for the less-uptight overseas market.
John Ireland is a wonderful John Huston, but he doesn't do the voice, which disappointed me. Huston had a great voice with unusual speech ticks. She cultivates a friendship with playwright Arthur Miller (Jason Miller) and dates Joe DiMaggio (Frank Converse). In a rather telling (and sad) scene, she visits her mother at a sanitarium. Her mother doesn't recognize her as her daughter, only as Marilyn Monroe and asks her for her autograph. That one scene encapsulates the life and times of Marilyn Monroe.
After divorcing DiMaggio and marrying Arthur Miller, she miscarries and, in her delirium, asks, "Where's my Momma?" I wonder if that was a confidence Miller shared with Mailer, and if so, why would he violate that trust? Or was she just a science experiment, the Eliza to his Henry? It doesn't matter because once again we hear divorce bells. While filming Something's Got To Give, she tells director George Cukor, "It's the same old thing: bad script and a dumb blonde." And then she winks at him. She's in on the biggest joke of her life. And then it's over. She dies alone. I can't imagine a worse way to go.
Our first cable box was a non-descript metal contraption with a rotary dial and unlimited potential (with no brand name – weird). We flipped it on, and the first thing we noticed was that the reception was crystal-clear; no ghosting, no snow, no fuzzy images. In June of 1984, HBO and Cinemax broadcast an incredible, eclectic assortment of movies. Vintage Cable Box returns to highlight each of those movies, as well as offering new appraisals and providing context into what was cable television in the mid '80s. It was a different cultural landscape at the time, and these movies offered an education that went far and above film school. Vintage Cable Box explores the wonderful world of premium Cable TV of the early eighties. Enjoy!
Special thanks to Dave Hooser for scanning the HBO/Cinemax guide and sharing these pictures.