Download
Stitcher
Listen Directly
Subscribe
Some supernatural revenge should be visited upon the filmmakers for this travesty of a film.
We at VHS Rewind feel that Peter Straub's novel, Ghost Story, upon which this film is (shall we say, loosely) based, is one of the great horror novels of all time. It has the scope and heft of one of those bricks produced by Stephen King (Salem's Lot; It; The Tommyknockers; etc.) but is much more literate and creepy and atmospheric.
VHS Rewind is only too happy to dedicate our latest episode discussing why this film is a damn shame, a missed opportunity of epic proportions, from top to bottom.
The raping of Straub's novel is just the first (albeit the most egregious) of the movie's sins. Then there is the unforgivable error of casting Craig Wasson: why did people cast this utterly talentless individual? This is the man who would go on to single handedly destroy Brian DePalma's BODY DOUBLE (1984). An actor with less charisma (and, apparently, a smaller dick) would be very hard to find.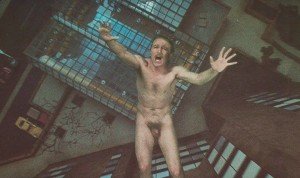 We are VHS Rewind were relieved to discover Craig Wasson seems to have stopped getting work after 2006. Is it us or does Craig Wasson look like a bastard cross between Bill Maher and Robert Englund (with none of the talent of even Mr. Englund)?
And what of the famed Chowder Society? For an old-timer like myself, it is great to see this quartet of octogenarians (the great John Houseman; the great Fred Astaire; Douglas Fairbanks Jr (I guess he was great, but who was he?); and Melvyn Douglas (I guess he was great, but who was he?) but neither the director (John Irvin) nor the screenwriter (Lawrence D. Cohen) do these actors any favors.
VHS Rewind is also only too happy to expound (and at length) upon the virtues of the film's one shining star: actress Alice Krige, who plays the sexy-as-all-get-out vengeful ghost.  This is meant as a compliment but Ms. Krige's copious nudity is surpassed by her acting here: she does portray an especially menacing supernatural entity.
We hope you will join VHS Rewind for this seance where we wish evil retribution upon the filmmakers responsible for 1981's GHOST STORY.