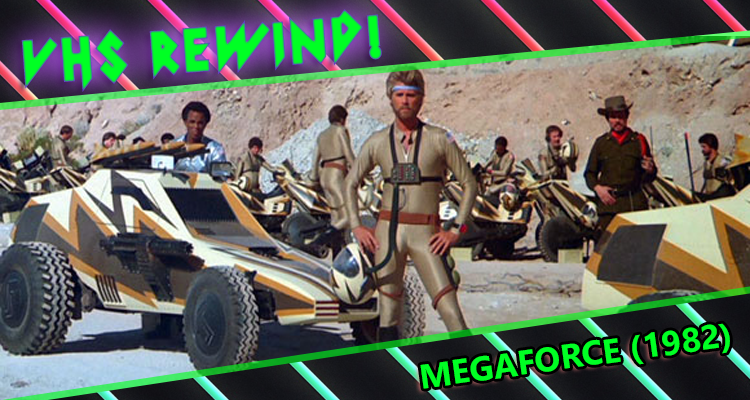 Download
Stitcher
Listen Directly
Subscribe
Due to unprecedented demand.
Because our audience asked for it.
VHS Rewind is covering another Hal Needham flick. Our previous episode, spotlighting director Hal Needham's incredible Rad, was one of VHS Rewind's all-time most downloaded episodes.
Rad the film, was a really great surprise for us (me) – we (I) hadn't seen it before deciding to cover it for the show, and, wow, it was just amazing. Listen to that episode to hear all about it. The great thing is, there are still quite a few films from Needham's golden (directorial) period (that period beginning in 1977 with the classic Smokey and the Bandit and lasting through Body Slam in 1986) that we at VHS Rewind haven't seen.
We cannot wait to tackle Body Slam and, especially, The Villain (1979). Our focus for this episode is Needham's equally incredible Megaforce (1982). We at VHS Rewind remember the poster for this flick from when it was first released (and we were just kids) but we never did see this (not even when the flick was released to VHS). Now, we can't wait to show it to our kids.
Megaforce may be missing Rad's incredible soundtrack of power ballads and power guitar, but it surpasses Rad's already inspired lunacy – a romantic skydiving scene (yes, you read that right, complete with syrupy love music, and that almost 5 minutes) that rivals (no, that betters) Rad's bike dance-off, flying motorcycles so memorably executed with the cheesiest effects work imaginable, an incredible Lycra (?) wardrobe for the titular team, explosions, explosions, explosions and a great cast filled with terrible actors delivering terrible dialogue terribly (with the notable exception of Henry Silva, a sterling example of a great actor have a great time with a terrible script and retaining his dignity against all odds).