"A terrible presence is in there with her. So much rage, so much betrayal, I've never sensed anything like it. I don't know what hovers over this house, but it was strong enough to punch a hole into this world and take your daughter away from you."
Poltergeist, 1982 (JoBeth Williams), MGM/UA
I had not intended to cover Poltergeist for a few months, but sometimes the unexpected passing of a filmmaker prompts a publication. Vintage Cable Box started at the end of August, 2015 with a write-up of Wes Craven's Swamp Thing. Easy Money was intended to be the first article, but Wes Craven's death changed the schedule. Garry Marshall passed away in July of last year, so I rushed Young Doctors in Love, as did Gene Wilder's death preceding The Woman in Red. Haven't we had enough untimely death? Our heroes are dropping like flies!
Before Poltergeist, director Tobe Hooper's main claims to fame (or infamy, as the case may be) were The Texas Chainsaw Massacre in 1974 (I'll never forget the death of Kirk) and an excellent television adaptation of Stephen King's Salem's Lot in 1979. A personal favorite of mine, The Funhouse, was released in 1981. Poltergeist, in 1982, appears in the eye of a visual effects super-storm, preceded by Raiders of the Lost Ark, and enveloped by Ghostbusters with striking, visceral animations created by Industrial Light & Magic and supervised by Richard Edlund. After Poltergeist, Hooper would direct Lifeforce (1985), a remake of Invaders from Mars (1986), and a criminally underrated sequel to The Texas Chainsaw Massacre.
Without the combined elements of Hooper, Steven Spielberg, ILM, and the music of Jerry Goldsmith, Poltergeist would be just another horror movie; a generic hodge-podge of ghost movie tropes, jump-scares, and repetitive horror conventions. The Freelings (JoBeth Williams, Craig T. Nelson) are a good-looking, pot-smoking couple living in a planned community in Orange County; part of a new real estate development bulldozing over an ancient Indian cemetery (always a bad decision, especially in horror movies), and they begin to notice strange occurrences on the property (their property specifically). Chairs and other pieces of furniture seem to move of their own volition. Late one night, their youngest, Carol Anne (Heather O'Rourke), starts talking to the static in the television. Well, that's peculiar.
The next night, Carol Anne disappears and little Robbie (Oliver Robins) is attacked by a monstrous tree outside his bedroom. The Freelings call their friendly neighborhood ghost-busters (Beatrice Straight, Richard Lawson, Martin Casella) who then sub-contract to the diminutive, iconic Zelda Rubinstein to "clean" their house of supernatural disturbances. As with most people, nobody likes to be evicted, and the spirit world collides with the material world with slimy veracity. In the film's climax, the skeletons in the burial ground come alive and terrorize JoBeth and the children as Craig packs up their belongings so they can get the hell out of there. My only question is why does the spirit world have such a ridiculous hard-on for this family and nobody else?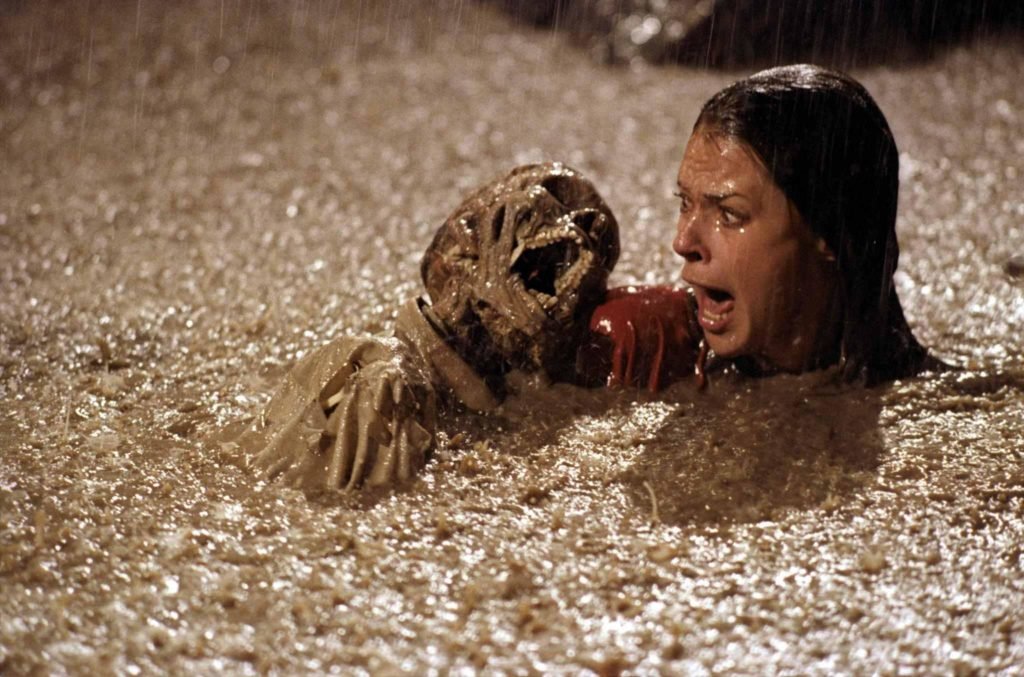 The Poltergeist franchise suffers from unfortunate coincidences and controversies. Both Dominique Dunne (who played eldest Freeling daughter, Dana) and O'Rourke died tragic deaths at young ages. Two other actors associated with movies in the franchise also died of medical ailments. Speculation about the "Poltergeist Curse" has led people to believe this was due to the production using real human bones and skeletons during the film's climax. It's also rumored Spielberg directed most of the movie because, in an early press release, Spielberg stated Hooper wasn't "…a take-charge sort of guy." I don't doubt Spielberg brought a considerable amount of input to the movie. He co-wrote the screenplay, which was based on his story. He produced the movie, but the shots and set-ups are Hooper's. Poltergeist is Tobe Hooper's film, from start to finish.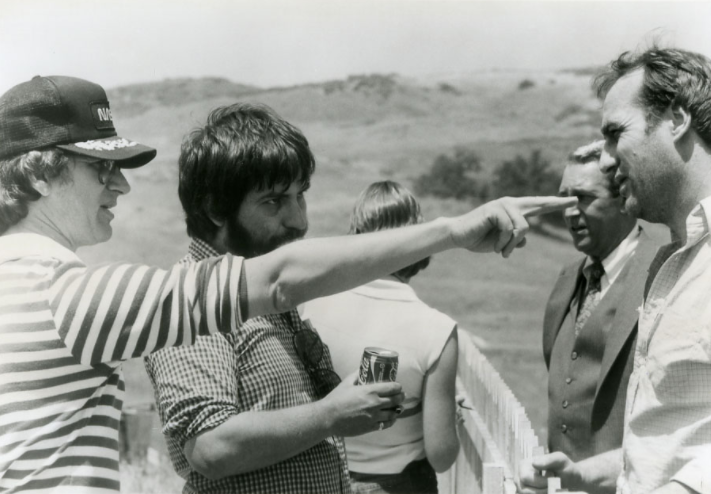 Tobe Hooper
1943-2017
Our first cable box was a non-descript metal contraption with a rotary dial and unlimited potential (with no brand name – weird).  We flipped it on, and the first thing we noticed was that the reception was crystal-clear; no ghosting, no snow, no fuzzy images.  We had the premium package: HBO, Cinemax, The Movie Channel, MTV, Nickelodeon, CNN, The Disney Channel, and the local network affiliates.  About $25-$30 a month.  Each week (and sometimes twice a week!), "Vintage Cable Box" explores the wonderful world of premium Cable TV of the early eighties.