"Somewhere in Time, 1980"


"Forgive me. I have never known this feeling. I have lived without it all my life. Is it any wonder, then, I failed to recognise you? You, who brought it to me for the first time. Is there any way that I can tell you how my life has changed? Any way at all to let you know what sweetness you have given me? There is so much to say. I cannot find the words. Except for these: I love you".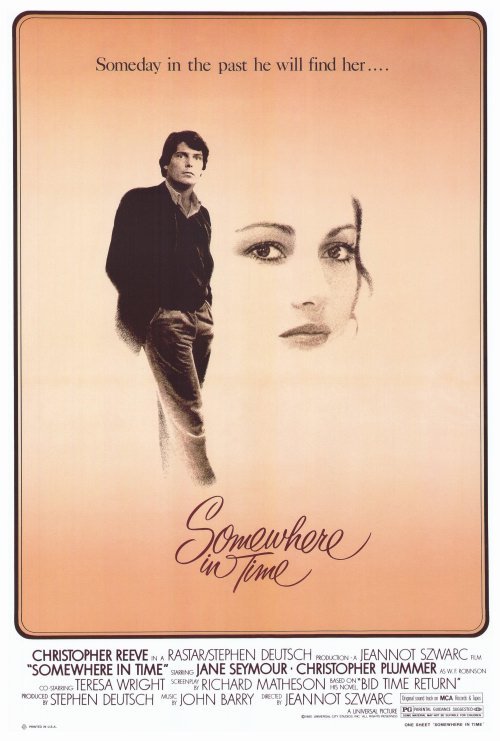 Somewhere in Time, 1980 (Christopher Reeve), MCA/Universal
Danny Peary, in his excellent Guide For The Film Fanatic, suggests that because Christopher Reeve and Jane Seymour are so appealing in Somewhere in Time, the filmmakers should have dispensed with the script and simply shot the two leads making love in every room of the beautiful Grand Hotel. While a flippant and hilarious observation, I don't know that I agree with Peary. The film was shown constantly on cable television. As a 12-year-old, I was bored with the movie. I didn't understand the pacing and I had to ask my Mother why the narrative was so unusual. It's supposed to be about time travel, so I think I was expecting something along the lines of Time After Time. She told me it was "romance," and as such, followed the tropes and calculations of a fantasy/romance story.
An old woman slowly approaches aspiring playwright Reeve, hands him a pocket watch and whispers, "Come back to me." Reeve is disturbed by this, to say the least, but he begins to feel a bizarre connection to the old woman. We flash forward some eight years later. Reeve is now a success but suffering writer's block and a recent break-up, so he goes to the Grand Hotel on Mackinac Island, located between the Upper Peninsula of Michigan and St. Ignace on the mainland. I've been to Mackinac Island. The journey requires a treacherous (not to mention nausea-inducing) ride on a catamaran, but once you get there, it's quite a sight. Despite the presence of modern automobiles in the movie, cars tend to be forbidden in keeping with the turn-of-the-century vibe, so generally you would see only horse-and-buggies.
At the hotel, Reeve spots a portrait of a beautiful woman with a mysterious smile on her face. With the help of an old bellhop (Bill Erwin), he discovers the woman in the photograph was an actress named Elise McKenna (Seymour) and that she was the old woman who gave him the pocket watch eight years before. Among her personal possessions, she kept a book about time travel, written by Reeve's old college professor. He looks up the professor, and drops the ridiculous question, "Is time travel possible?" The professor clears his schedule for the day and runs Reeve through the basics of his theory of time travel. Let's just put it this way: there is no time machine in this movie, but for Reeve's horny brain! Basically, the idea is to "will" yourself into the past. You put on the right clothes for the time period, remove all extraneous reminders of the present-day from your field of view (this is important), and put yourself into a hypnotic trance. Rinse and repeat.
Reeve wakes up in 1912 at the Grand Hotel just in time to catch the final performance of a play starring Jane Seymour. He goes down to the lake front where she stands staring at the water. To his surprise, she sees him and asks, "Is it you?" It turns out she had been expecting to meet a man who would change her life forever. Her obsessive, controlling manager Robinson (Christopher Plummer) keeps trying to drive a wedge between Reeve and Seymour; all but telegraphing some kind of unrequited love and devotion under the pretense of protecting her interests, but it is striking to me how fiery and independent McKenna is as she rebels against him.
Jeannot Szwarc directs an uneven script from Richard Matheson (based on his own book, Bid Time Return) and the movie suffers from the same problems a similar Matheson adaptation would have in the 1998 movie, What Dreams May Come. Spectacular, in a visual sense, and passionate at their respective cores, both movies cannot negotiate any dramatic strength and instead treat us to beautiful images and provide no explanation for the fantastical elements of the story, nor is there much in the way of logic to guide us through Reeve's tormented psyche. The two leads are thoroughly engaging and they work hard to sell the idea, but it isn't enough to carry the movie. I think Matheson (one of my favorite writers) deviated too much from his source material, yet his paradoxes (such as the pocket watch and the bellhop) are still intriguing.
Our first cable box was a non-descript metal contraption with a rotary dial and unlimited potential (with no brand name – weird). We flipped it on, and the first thing we noticed was that the reception was crystal-clear; no ghosting, no snow, no fuzzy images. We had the premium package: HBO, Cinemax, The Movie Channel, MTV, Nickelodeon, CNN, The Disney Channel, and the local network affiliates. About $25-$30 a month.  Each week (and sometimes twice a week!), "Vintage Cable Box" explores the wonderful world of premium Cable TV of the early eighties.