"You won't forget Paul Snider."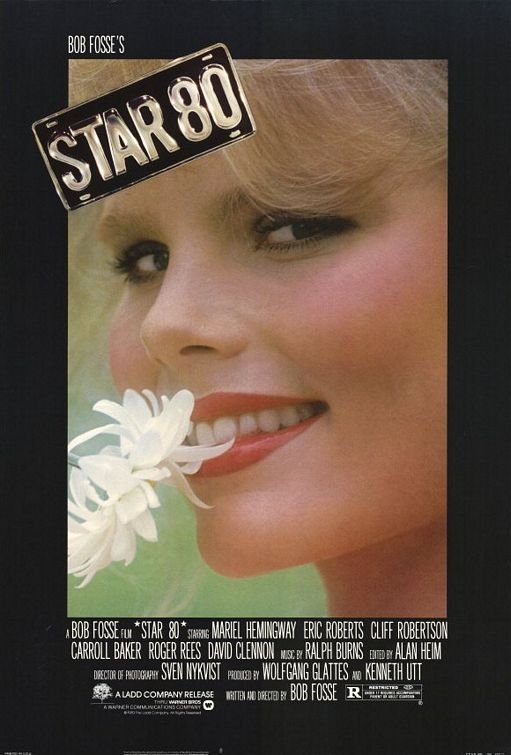 Star 80, 1983 (Mariel Hemingway), The Ladd Company
Less a cautionary tale of the dangers of stardom than a lurid, exploitative tome of sleaze merchants ogling naive tarts, Star 80 tells the story of Playboy centerfold, Dorothy Stratten (Mariel Hemingway), and her relationship with "personal manager", Paul Snider (Eric Roberts). Director Bob Fosse shuffles the narrative deck, giving us fleeting glimpses of blood-covered Eric Roberts contemplating his once-perfect princess. This is a structure now common to bio-pics with a slice of documentary-like reality (as in Fosse's previous Lenny) to give the whole bloody affair a degree of authenticity.
Roberts' Paul Snider is a wanna-be in a world of ne'er-do-wells. He was a pimp and a promoter. He procured models for car shows and wet t-shirt contests. Fosse's take on Snider leaves no room for ambiguity; there's nothing about him you could like. There are no redeeming qualities. Eric Roberts plays him like he's been kicked in the head one too many times.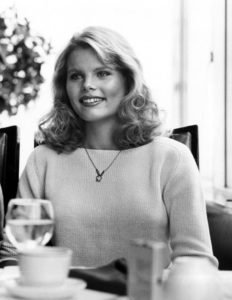 Snider spots unremarkable Dorothy Stratten in a diner and starts dating her on the sly. It's not as though he were corrupting her. He wants to corrupt her, but Mariel Hemingway plays Stratten straight and innocent even as she takes off her clothes for Hugh Hefner (Cliff Robertson) and his arsenal of bargain basement photographers. Roberts is fascinating; playing Snider as a human-in-training, rehearsing appropriate greetings and stifling his anger when ridiculed. He reminds me of James Cagney. He shepherds Stratten's career as she becomes Playboy's Playmate of the Year, but as her star ascends, he descends into a vapid sea of smut, and dangerously, asserts ownership of her soul. This is exactly where we assume the story will go.
Snider manipulates photographers and wrangles finder's fees to get Stratten's pictures to Playboy. As much as the principal characters in the movie want you to believe Snider is the Lucifer to Stratten's Eve, I see only an angry child who turns to murder when he doesn't get what he wants. Snider and Stratten, oddly, come across as naive soulmates swimming in a sea of sharper, more manipulative sharks. Snider worships her as though she were a porcelain doll, which will permit no tarnish.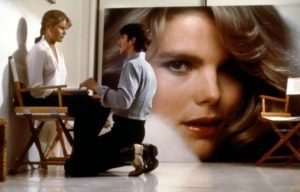 Bob Fosse's direction is cynical and arrogant. Lenny and All That Jazz serve as companion pieces (though superior to Star 80) in establishing Fosse's puzzling antipathy for an industry that made him an icon. Fosse captures the era perfectly, which is not far removed from the time the real story unfolded. In Fosse's world, it's easy to fall into the trap of having a good time. In mid-murder, Snider justifies his actions to his lifeless, blood-soaked corpse of a bride. If he couldn't control her life, he could at the very least, control her death.
Sourced from the original 1984 Warner Bros "clamshell" VHS release. The box sports a distinctive silver/metallic gray color scheme. The movie continued to receive different format releases and is available in Beta, DVD, and Laserdisc formats, but remains unavailable on Blu Ray. "She was every man's dream – and one man's obsession." The accompanying essay on the back of the box trumpets the Eric Roberts performance as, "…original, authentic, and hypnotic…" I don't know why you would have so many redundant adjectives, but I agree. Strangely, there is a disclaimer at the bottom of the essay (as in the movie) that reads, "This motion picture is, in part, a fictionalization of certain events and people involved in the lives of Dorothy Stratten and Paul Snider."
Our first cable box was a non-descript metal contraption with a rotary dial and unlimited potential (with no brand name – weird). We flipped it on, and the first thing we noticed was that the reception was crystal-clear; no ghosting, no snow, no fuzzy images. We had the premium package: HBO, Cinemax, The Movie Channel, MTV, Nickelodeon, CNN, The Disney Channel, and the local network affiliates. About $25-$30 a month. Each week (and sometimes twice a week!), "Vintage Cable Box" explores the wonderful world of premium Cable TV of the early eighties.