Vintage Cable Box: A Christmas Story


"Aunt Clara had for years labored under the delusion that I was not only perpetually 4 years old, but also a girl."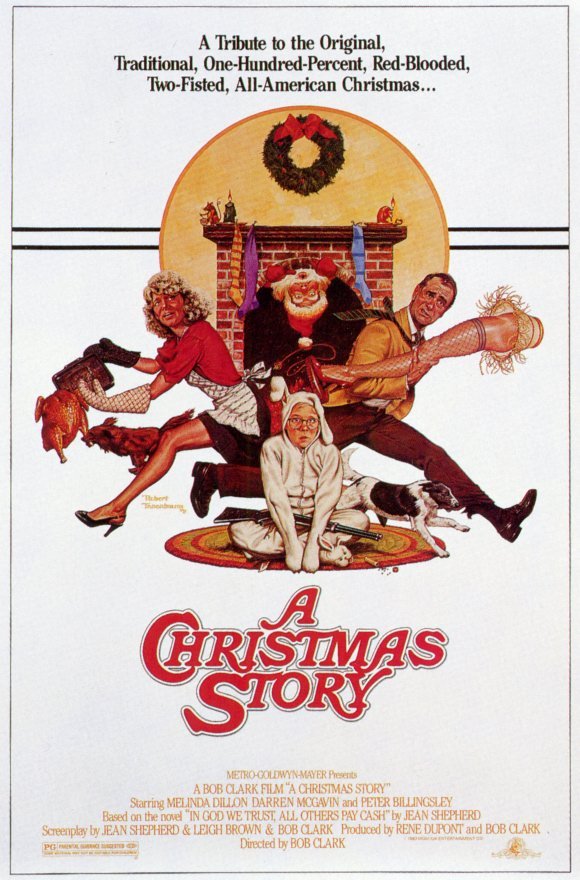 A Christmas Story, 1983 (Peter Billingsley), MGM/UA
It used to be that you would unknowingly discover a film, and with such an innocuous title as A Christmas Story, you'd likely flip to the next channel. Very little money was spent on marketing movies already past their prime release dates in theaters. Cable television channels would advertise movies making their broadcast premieres. You might find occasional print advertisements in TV Guide, but more often than not, movies would disappear down a hole, until they were discovered many years later. It would take years to see a movie released to videotape, so word-of-mouth was often all a filmmaker could depend on to get his or her movie seen.
A Christmas Story was not a critical and only a marginal box-office success upon initial release, grossing $19 million against a $3 million budget, but it was purchased by Ted Turner when he acquired MGM/UA's back-catalog and holdings in 1985. Revisionist film critics now consider it a modern-day classic, and marathon showings of the movie dominate basic cable to this day. Watching the movie non-stop last Christmas, I was struck by how hypnotic the whole enterprise can be. The movie is a string of episodes and those episodes are in constant rotation. It's like watching the old "yule log" presentations on Channel 11 – it just keeps going … and going … and going. Thanks to digital archivists like Rolando Pujol, that yule log has thankfully returned to channel 11.
So it's the 8th of September and we're in the middle of another heatwave here in New York, and I am sweating, but I try to conjure up images of snow and bitter cold and Flick's tongue frozen to a pole and I'm almost there. I like Christmas. My daughter was born on Christmas Day, and while it may be a drag for her, it's easy for her mother and me to put together a mega-birthday celebration complete with a tree and some lights, a cake, and a mountain of gifts. We all take a day off from being jerks, mostly because we've got a nice big meal and presents waiting for us when we get home. Humanity sucks in general, but for one day out of the year, we don't suck as much.
Based on a collection of stories and anecdotes by Jean Shepherd, A Christmas Story introduces Ralphie (a brilliant Peter Billingsley), a nine-year-old with a simple request.  All he wants is a Red Ryder BB gun (with a compass in the the stock, and a sundial).  He gets the easy, infuriating brush-off: "you'll shoot your eye out" over and over from everybody he makes this request to, including a mean-spirited department store Santa Claus.  The "episodes" or anecdotes in the movie include a hideous yet indescribably beautiful lamp shaped like a leg Ralphie's dad (Darren McGavin) wins in a contest, the hillbilly Bumpus dogs that terrorize McGavin every chance they get, the bullies Farkus (with his maniacal laugh) and Dill (the toadie), the triple-dog-dare, the bunny suit (the pink nightmare), the furnace, the curse word, and the aforementioned adventure with a frozen pole.  In the end, Ralphie gets what he wants.  Even if you haven't seen the movie, you can still guess what happens.
It's interesting to me that family movies were not as big in those days as they are today.  I only remember a few of them.  In fact, family movies are all Hollywood has to depend on to put keesters in the seats.  Movies based on toys, video games, and cartoon products are the movies that make the big bucks, because they are made (seemingly) for the whole family.  In 1983, it was a different story.  Most of the money was being made from sex comedies and horror movies.  "Family"-oriented movies were relegated to made-for-television status.  Disney had suffered major financial overhauls due to their creation of a cable television channel, and they were not making many animated features.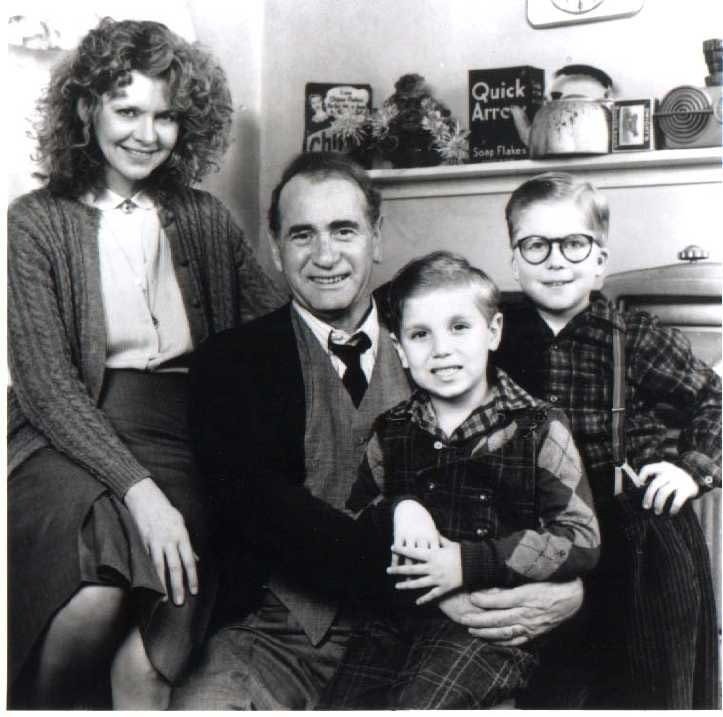 Jean Shepherd's narration is quaint. He sounds like he is describing the peculiar activities and rituals of the human race to aliens from other planets. Of course, the characters (especially those from Ralphie's family) are quite familiar to us. His dad is well-meaning, somewhat temperamental, and often wrong. His mother (played by adorable Melinda Dillon) is the voice of reason, and a good sport to put up with her husband's antics. His little brother, Randy, is an idiot and an anorexic in potentia. The bullies are monsters. I never understood why two kids (one of them a half-pint) could scare four moderately-sized kids so much they had to run in opposite directions.
So leave it to Bob Clark, of all people, to craft a sweet and wonderful holiday movie for children and adults to enjoy. He had just finished Porky's 2: The Next Day and did a complete about-face with A Christmas Story. I've always been impressed with directors who try to broaden their horizons by working in multiple genres. In addition to the Porky's movies, Bob Clark made horror movies (Children Shouldn't Play With Dead Things), thrillers (Murder By Decree), and social commentary (Turk 182). He also made some stinkers, but his body of work more than made up for it. He died in 2007.
I've had several conversations with some very interesting people over the last few weeks with regard to their respective roles in the concept (not the holiday with religious implications) of Christmas.  I came to the conclusion that Santa, that Christmas is for everybody.  It's mainly for children.  Christmas is a child's holiday.  It's about presents and trees, and ornaments, and decorations.  It's about a delicious meal.  It's about tipping your hat on a cold night to a stranger.  Christmas is for everyone.
Merry Christmas Everybody!
Our first cable box was a non-descript metal contraption with a rotary dial and unlimited potential (with no brand name – weird). We flipped it on, and the first thing we noticed was that the reception was crystal-clear; no ghosting, no snow, no fuzzy images. We had the premium package: HBO, Cinemax, The Movie Channel, MTV, Nickelodeon, CNN, The Disney Channel, and the local network affiliates. About $25-$30 a month. Each week (and sometimes twice a week!), "Vintage Cable Box" explores the wonderful world of premium Cable TV of the early eighties.