Vintage Cable Box: Avanti!, 1972

"Here we do not rush to drugstore for chicken sandwich & Coca-Cola. Here, we take our time. We cook our pasta, we sprinkle our Parmigiano, we drink our wine, we make our love…"
Avanti!, 1972 (Jack Lemmon), United Artists
A pre-credit sequence Jack Lemmon wears what looks like golfing togs, propositioning a well-dressed fellow American a few seats behind him in an airplane. We can't hear what they're discussing, but soon after, they get up and retire to the tiny bathroom. As this unusual exchange has aroused the curiousity of just about everybody on the plane, including the pilots and stewardesses, they emerge from the bathroom wearing each other's clothes. This is a five-minute set-up that bids a fond arrivederci to the conventions of a decent attention span in order to set up a visual joke and ciao to the more permissive sexual humor of the seventies. Avanti! is a groundbreaking achievement in that regard.
Lemmon is on his way to Naples to claim the body of his deceased father, Wendell Armbruster, Sr., a corporate Baltimore-money tyrant, who appears to have expired in a car crash. It's interesting that Lemmon's approach to the material, the reaction of his father's death, and the ensuing romantic adventure is one of mild annoyance at every person and every situation that threatens to road-block his return to the States. Lemmon discovers his father was not alone in the car. Under the guise of traveling to Naples every year for ten years of spa treatments, Lemmon's father has been having an affair with a British tart in a Same Time, Next Year kind of capacity. He hooks up with the daughter (Juliet Mills) of Armbruster's mistress, takes an instant dislike to her (as he does with everyone in this movie), and sets about making preparations to ship the body back to Baltimore.
Lemmon is a man embarrassed by his father's dalliances, and would do everything he could to keep those secrets, but Juliet (knowing well in advance of Lemmon her mother's escapades in Naples) is a romantic at heart, and as lonely a person in her own right as Lemmon, but at least she admits it. She wants their bodies buried up on a hill overlooking the bay. Lemmon, of course, disagrees. He doesn't want to publicize and celebrate their flagrant and careless behavior. In fact, he's such a sour-puss in this movie, it's shocking Mills is attracted to him at all (and personally speaking, I would've kicked him right in the nuts after his "fat-ass" remark). Of course, this being Italy with passion and romance in the air, it's not long before they conduct their own clandestine affair. Unfortunately, their romance feels perfunctory to a romantic comedy set in Italy.
The bodies go missing, and Lemmon is convinced Juliet had something to do with it.  This subplot involves a romance between the hotel maid, Anna, and her lover, the valet Bruno, which is extraneous and adds to the running time (a whopping 2 hours and 20 minutes!).  What's a romantic comedy without a little murder and intrigue?  In one of the more publicized scenes from the movie, Lemmon and Mills sunbathe nude together on a large rock in the middle of the bay, under sight of boats, curious onlookers, and helicopters.  It seems they are recreating the exploits of their parents.  Bruno wants to extort them for their behavior.  This enrages Anna (who always liked the old man and his mistress), who kills him.  What I enjoy about the film is that it seems to be a mere excuse to travel to Italy and photograph the gorgeous views(good enough reason for me).
As I inferred, this is an unusual movie; produced at the end of a creative cycle of sex comedies that only made vague implications with regard to carnal passion, expectation, and lust. I'm reminded of director Billy Wilder's more successful entries,The Seven Year Itch (a personal favorite), The Apartment, and Irma la Douce, but these were unusual times. Nudity and sexual content became more prevalent in adult-oriented films, as did contemporary ideas about the sexes.
One particular element of the screenplay (and the stage play upon which Avanti! was based) has characters consistently commenting (in mean-spirited fashion) on Juliet's character's weight and physical characteristics.  Her character is written as being "short and fat".  According to other sources, Wilder even asked Mills (the older sister of Hayley Mills) to gain weight for the role, yet to me and others with whom I have watched the movie, she doesn't appear to be overweight at all, and what's more, she's actually quite beautiful.  Perhaps her wide face and frumpy manner existed in strict defiance to the new era of Twiggy; the anorexic, tall supermodels of the late 60s.  Watching this movie, I can understand why women are under such tremendous pressure to maintain an attractive physique.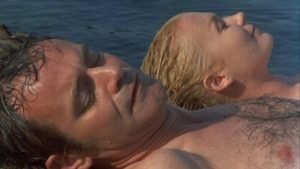 As we usher in a new season here at "Vintage Cable Box", I reflect on the long, hot summer; the chaos and the politics, the terror and the splendor and remember the movies and the daydreams into which I have always fallen, and I remember the door to those dreams is always ajar.  No need for permesso here.  Avanti always!
Coming Next Month! Halloween all month at "Vintage Cable Box!"
Our first cable box was a non-descript metal contraption with a rotary dial and unlimited potential (with no brand name – weird). We flipped it on, and the first thing we noticed was that the reception was crystal-clear; no ghosting, no snow, no fuzzy images. We had the premium package: HBO, Cinemax, The Movie Channel, MTV, Nickelodeon, CNN, The Disney Channel, and the local network affiliates. About $25-$30 a month. Each week (and sometimes twice a week!), "Vintage Cable Box" explores the wonderful world of premium Cable TV of the early eighties.