Vintage Cable Box: Trading Places


"I had the most absurd nightmare. I was poor and no one liked me. I lost my job, I lost my house, Penelope hated me and it was all because of this terrible, awful Negro."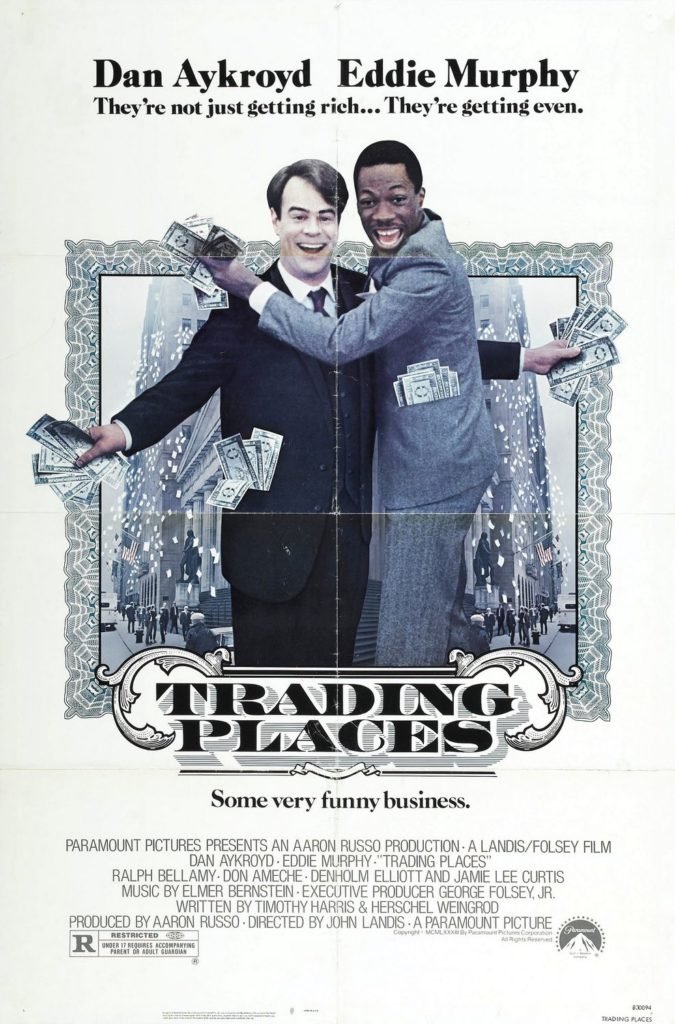 Trading Places, 1983 (Dan Aykroyd), Paramount Pictures
Eddie Murphy's Billy Ray Valentine lives on his wits. He masquerades as a homeless amputee Vietnam vet. He owes money all over town, and he boasts of limousines, "bitches", and an unsurpassed knowledge of Karate. He proves to be the perfect, unknowing subject of a dual experiment initiated by the evil multi-millionaire Duke Brothers, Randolph (Ralph Bellamy) and Mortimer (Don Ameche). The Duke Brothers want to know if a man's success, personal and financial, is largely dependent on his upbringing or the lifestyle he enjoys – in other words, heredity or environment. They (with the help of unscrupulous security specialist Clarence Beeks), destroy top employee, Louis Winthorpe III (Dan Aykroyd), his reputation, and his finances, and put him on the street. They give Valentine Winthorpe's life, his job, and his luxurious Philadelphia townhouse.
Aykroyd is arrested for possession of PCP (planted on him by corrupt cop Frank Oz!), his credit cards are confiscated and his assets repossessed by the bank.  He is taken in by kindly hooker, Ophelia (Jamie Lee Curtis), who helps get him back on his feet provided he reimburses her.  Meanwhile, Valentine thrives in his new position at the Duke Brothers' financial firm.  He becomes the toast of the business world, while Aykroyd has to fend for himself for the first time in his life.  He sells his expensive Roche Vouceau watch to a pawnbroker for $50, buys a gun and, in a drunken stupor, tries to frame Valentine.
For his part, Valentine stumbles onto the Dukes' "science experiment" and the modest wager (one fucking dollar!) between the brothers.  Lost in all of this is the ultimate outcome.  Valentine proves beyond the shadow of a doubt that a man can succeed in the right climate if he has business acumen.  Winthorpe can survive in an alien environment when he learns the acquired wisdom of compromise.  Putting their heads together, Aykroyd and Murphy concoct a scheme to supply a false crop report to the Dukes, who have retained the continued service of Beeks (an appropriately evil Paul Gleason) for a little bit of their own insider knowledge as they plan to corner the market in frozen orange juice futures.
Director John Landis' best-reviewed film, from a clever (probably too clever for it's own good) script by Timothy Harris and Herschel Weingrod; some 33 years on, it still hits hard, but with a positive message – the people at the top will never understand the problems of the poor or disenfranchised, but if they care, there might just be a little hope on the horizon.  Note Eddie Murphy's disposition throughout the movie.  He seems happy-go-lucky, but always suspicious – a character-beat prevalent in the movies of Preston Sturges, the godfather of the screwball comedy.  Dan Aykroyd's character, once blissfully ignorant, has to live on the charity of decent, kind-hearted people; people he would never acknowledge in his former life as a master of the universe.  He discovers the downtrodden; particularly the exceptional Ophelia, can also have a head for business in addition to navigating their lives with very few resources.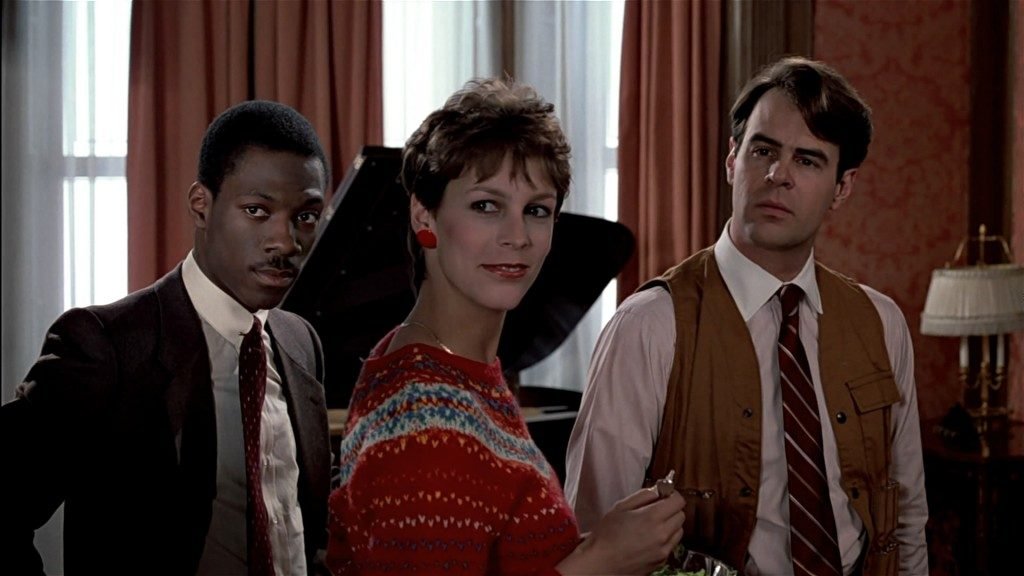 Trading Places was a rare (for the time) literate comedy that became a box-office hit.  By telling the story from both sides of the financial (and cultural) divide, we are privy to the trappings of screwball comedy as viewed from a modern sensibility with fresh eyes.  Landis makes good use of distinctive Philadelphia locales.  The audience develops a working knowledge of how the Stock Market works and what brokers do (which seems more depressing to me than anything else), and how that system can be easily manipulated.  It's quite frightening actually.  So frightening, in fact, that "The Eddie Murphy Rule" came to pass in 2010 when the Commodity Futures Trading Commission approved a ban of "misappropriated government information to trade in commodity markets."  Wow.
Our first cable box was a non-descript metal contraption with a rotary dial and unlimited potential (with no brand name – weird). We flipped it on, and the first thing we noticed was that the reception was crystal-clear; no ghosting, no snow, no fuzzy images. We had the premium package: HBO, Cinemax, The Movie Channel, MTV, Nickelodeon, CNN, The Disney Channel, and the local network affiliates. About $25-$30 a month.  Each week (and sometimes twice a week!), "Vintage Cable Box" explores the wonderful world of premium Cable TV of the early eighties.