WGC – Back to School Part 2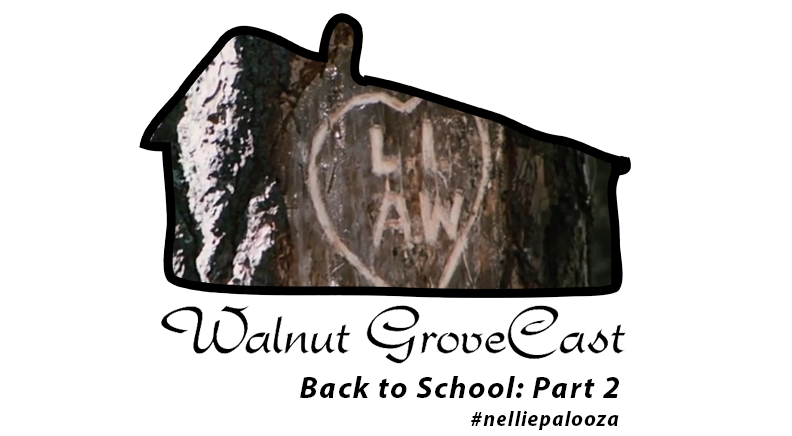 Episode 18- Back to School Part 2
Susan and Mark discuss the wonderful Back to School episode from Season 6.  This continues our #nellipalooza collection of shows…enjoy!
Laura, Albert and Carrie are beginning a new school year and many changes are in store on the 6th season of Little House on the Prairie
.
Nellie graduates from school and becomes the reluctant owner of a hotel and restaurant. The new characters of Almanzo and Eliza Jane Wilder enter in as the new School Teacher and the love of Laura's life.
Charles injures himself and Caroline goes to work as a cook in Nellie's restaurant.
Laura and Nellie are at their competitive best for Almanzo's affections, with Harriet helping by pressuring him into dinner with her daughter. Because neither she nor Nellie can cook, Laura is all too willing (with ulterior motives) to prepare Almanzo's favorite dish for her.
In a hurry to grow up and win Almanzo's heart. Laura believes she will officially be an adult if she can pass her school and teachers exams. In only an optimism that Charlie Brown trusting Lucy to hold that football can understand, Laura asks Nellie for help.
This episode climaxes with mud wrestling, a couple of punches in the face and Laura's realization that although she is approaching womanhood, like all of us, in many ways she is still a little girl, and no matter how much she matures, she will always be half-pint
 – Susan King
If you would like to hear more from Mark head over the http://vhsrewind.com or subscribe to his podcast by clicking here
The opening song "Albert" is written and performed by the amazing Norwegian band, Project Brundlefly and is used with permission.
Check them out at:
https://www.facebook.com/ProjectBrundlefly