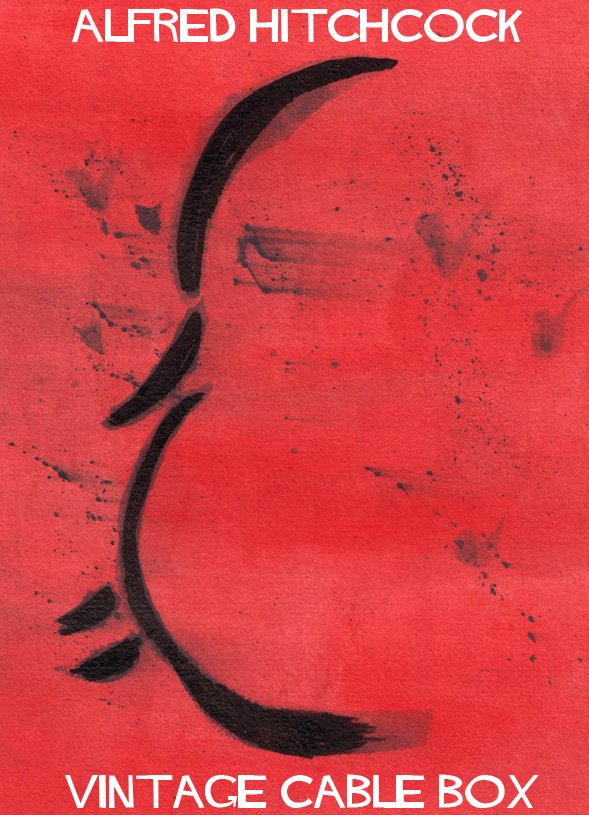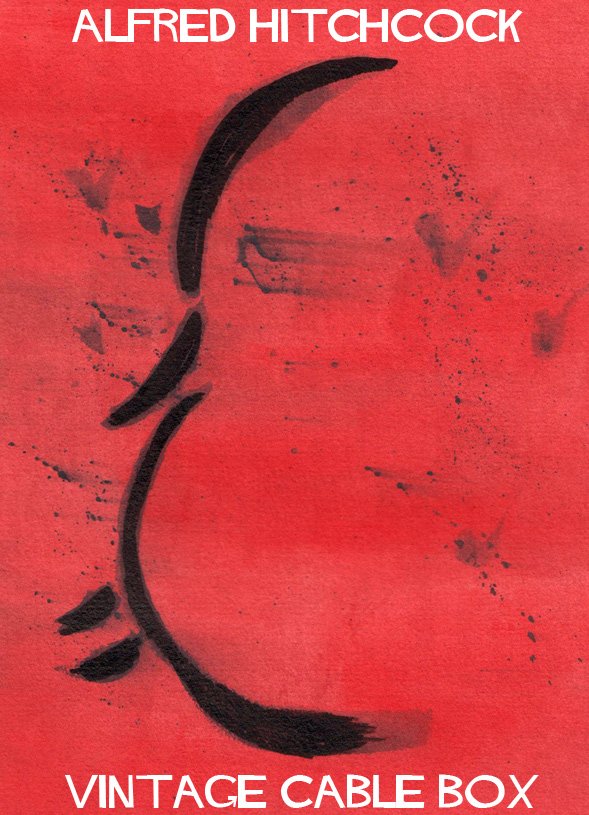 "She'll be talking to me about something. Suddenly the words fade into silence. A cloud comes into her eyes and they go blank. She's somewhere else, away from me, someone I don't know. I call her, she doesn't even hear me. Then, with a long sigh, she's back. Looks at me brightly, doesn't even know she's been away, can't tell me where or when."
Vertigo, 1958 (James Stewart), Paramount Pictures
There's a story about writer Pierre Boileau, watching a newsreel in a packed movie-house some time post-war in Paris, and swearing he sees an old friend (whom he believed long dead) in the newsreel. His "logic brain" tells him this can't be his dead friend, but the more irrational brain conjures images of ghosts and beseeches him to do some digging and find his friend. He must be alive! This is the seed of D'entre les morts, the source material for what could, arguably, be Alfred Hitchcock's greatest movie, Vertigo. Personally, I think Hitch was drawn to the more perverse aspects of the story, but knew a top-notch mystery had to catalyze his effort at unraveling his romanticized fantasy world of San Francisco. Jimmy Stewart is his muse (and alter-ego) in this adventure.
After enduring a personal (and highly publicized) tragedy involving the death of a fellow policeman from a fall, Stewart's John "Scottie" Ferguson suffers vertigo, a loss of balance and coordination as a result of his fear of heights. His best friend (and former lover obviously still in love with him), "Midge" (Barbara Bel Geddes) tries to help him in his recovery. He has retired from being a cop. He gets a call from an old school chum, Gavin Elster (Tom Helmore) to keep tabs on his neurotic wife, Madeleine (Kim Novak), who goes off by herself on long journeys, but seems to suffer a selective amnesia about where she goes each time. Sometimes she goes to a museum and stares at a painting of a woman who bears a striking resemblance to her. Stewart diligently follows her and takes notes.
Stewart becomes attracted to her, and being that he has no real job anymore, he obsesses over her, to "Midge's" annoyance. "Midge" doesn't want to hear about the pretty little rich girl with mental problems, and I can say I hardly blame her, but she is kind-of barking up the wrong tree here, and she can't get a clue. Stewart follows her to the base of the Golden Gate Bridge, where she jumps into San Francisco Bay (ostensibly a suicide attempt). He rescues her, takes her back to his swingin' bachelor pad, undresses her, and puts her in front of a roaring fire. She wakes, claiming to have no memory of the incident, quickly dresses, and gets the Hell out of there, yet she keeps leaving him a trail of crumbs to continue their developing relationship. As wounded (emotionally and physically) a person as Stewart is, what happens next is not only devastating but cruel.
Madeleine lures him to a Mission, jumps from a bell tower, and this time (we're led to believe) successfully kills herself. This sends "Scottie" into a spiral of deep depression, catatonia, and self-hatred. He blames himself for Madeleine's death. With "Midge's" help, he slowly recovers, but then he begins to notice a woman with fiery red hair who bears a striking resemblance to Madeleine. Her name is Judy Barton (also played by Kim Novak), who's more of a "common-sense" girl; smart and sarcastic. He tries to pick her up, but she sees right through it, so he takes the more "gentlemanly" approach by courting her. In a scene that nearly derails the movie, "Judy" comes clean to the audience (but not to "Scottie") by writing him a note, confessing that she truly is Madeleine, and that she was paid off by Elster to pretend to be Madeleine, as Elster concocted a plan to kill his real wife and take her money. After writing the note, she thinks about it and rips it up.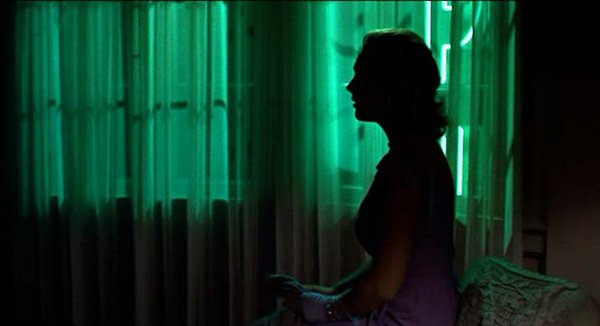 Maybe "Judy" thinks she and "Scottie" can have a life together. Maybe she thinks he'll overlook the whole murder thing and be her man for all time, but then as convicted assassin Arthur Bremer once said, "How many things go right in this crazy world?" This is where "Scottie" goes nuts, or so we assume. He makes "Judy" over. He has her wardrobe changed. He changes her makeup. He has her hair bleached and dyed blonde, and puts her in those expensive outfits Madeleine wore. When the effect is complete, it's hideously staggering. "Judy" just wants his love, and he abuses her with his compulsion. All that's needed to complete the effect is the necklace "Judy" brandishes. It appears to be the same necklace worn by the woman in the painting.
This seals the deal for Stewart so he drives "Judy" to the Mission where he leads her to the bell tower. "Judy" confesses to her crimes, and just when you think these crazy kids could make it work, a nun startles her and she falls to her death. This is the textbook definition of a "downer" ending; a powerful statement in the burgeoning modern film industry, but depressing as all Hell. Defeated by the failure of The Wrong Man, he had many projects in development, but he chose Vertigo, his darkest, most romantic movie (surpassing Rebecca). He was a brave filmmaker. North by Northwest would be his next trick on audiences. Stewart is sympathetic, despite some of his character's more grotesque choices – he's unusual here, not the strong voice of moral authority and compassion, but a flawed human. This would be his and Hitchcock's last collaboration as Hitch had blamed Vertigo's poor box-office performance on Stewart's age as a romantic leading man against the much younger Novak (though Novak and Stewart would subsequently appear in the much more successful Bell, Book & Candle). Vertigo is my favorite Alfred Hitchcock movie.
Our first cable box was a non-descript metal contraption with a rotary dial and unlimited potential (with no brand name – weird).  We flipped it on, and the first thing we noticed was that the reception was crystal-clear; no ghosting, no snow, no fuzzy images.  We had the premium package: HBO, Cinemax, The Movie Channel, MTV, Nickelodeon, CNN, The Disney Channel, and the local network affiliates.  About $25-$30 a month.  Each week (and sometimes twice a week!), "Vintage Cable Box" explores the wonderful world of premium Cable TV of the early eighties.