"A World Without Osmonds"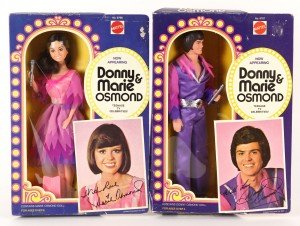 "I think the Native Americans are AS American as John and Ethel Barrymore and Donny and Marie Osmond…"
Bill Murray, "Tootsie"
Now this is something you don't really see anymore in television: the variety special, the Osmonds, Donny and Marie, Paul Lynde as Santa Claus with a bubbly, pony-tailed, candy cane-fellating Marie Osmond sitting on his knee. You feel safe with Paul Lynde. You don't feel like he's going to do something we'll all regret later. Paul Lynde makes me laugh. His quirks, his appeal; his Seventies Version of Gay (S.V.G. for short), up there with Charles Nelson Reilly or Liberace.
The Osmond family gathers in the snow-covered mountains of Utah. At one point, Jimmy is separated from the rest of the family so he can sing a song about Jesus. Donny and Marie Osmond are a force for good. They come to save us. They shoot each other strange glances. When Marie Osmond makes eye contact, the result is devastating. Donnie quakes in his L.L. Bean survival boots.
This show is a lot of fun to watch. There's an innocence about all this, and even though jokes can be made, they're only made from a nostalgic, sarcastic, contemporary place. For that is the future we have wrought! A future where Donny and Marie Osmond can no longer exist. There is hope. You can go to Las Vegas and see the raven-haired siblings perform. She's a "little bit country" and he's a "little bit rock n' roll" and nobody can stop their song. Nobody!
Imagine a world without Osmonds, a world without Soldiers of Love spewing sacred emotion all over the Wasatch Mountain Range, bringing tidings of great joy and the Mormom message, which I think involves holy underwear and wife-trading, but I can't be sure. When the Osmonds vanished from the television landscape, all that was left was banality, and Seinfeld, and Friends, and Will & Grace. The televised variety show was deader than disco.
If it were not for the cherished few who upload a lot of this stuff on YouTube, we would be hard-pressed to find any of these shows. Very few are available on DVD or VHS. These specials are relics and products of their time.
A & E (The Arts & Entertainment Network) used to run shows like these before they got all reality-based. You would see Donny and Marie and the Osmonds, Laugh-In, Sonny & Cher, Hee-Haw, Battle of the Network Stars, The Muppet Show, The Jacksons, The Andy Williams Show, and Carol Burnett. You would see old "Mystery Wheel" shows like Columbo, Heck Ramsey, and Kojak. For a time, Bravo ran these shows and then they ran on the now-defunct Trio Network, a kind-of pop culture clearing house.
Somewhere in Las Vegas, there is a magical place where Donny and Marie continue to sing for us. They continue to engage in awkward banter. They continue to inspire us.