A Year of Vintage Cable Box!

"Our technology forces us to live mythically"
Marshall McLuhan
Cable television is a beautiful woman (or man, I suppose) who gets into your brain and relaxes you.  She wants you to sit back and unwind.  Just imagine slender fingers rubbing and squeezing against your tense shoulders, then forming a fist to dig into the middle of your spine, and then you hear a satisfying crack and the ease of your joints.  I love her.  She is, as Homer Simpson would say, my "secret lover."  This is me as an 11-year-old, unlocking the treasure trove, finding the honey pot, and witnessing boobies and enthusiasm, and strong language; the use of the "f" word.  I remember gasping when I first heard it.  I didn't gasp anymore after I saw Scarface for the first time.  Cable television is different these days; the Pandora's Box – she offers too much and gives nothing in return.  I looked at my guide the other day – a little over eleven hundred channels, crystal-clear HD, on-demand – anything I want, I can have.  In 1984, we had thirty channels, and if there was something I wanted that wasn't on cable, I went to the video store.  Bear with me.  I'm not going to start up a diatribe about how things were better when I was a young'in.
Vintage Cable Box is something I always wanted to do.  I wanted to go back to that time when I was a young man, with burgeoning puberty pounding down the door, and Alyssa Milano's gorgeous face, and Jacqueline Bisset's tanned body and wet t-shirt, beckoning me.  I tune into Porky's and come to the realization that there is a whole other world out there: the world of the coaxial cable and the heavy metal box on top of my 25″ Magnavox color console.  From there, innocence becomes a degree of intelligence (not much, but I was eleven, mind you) where cable television becomes my peculiar form of film school.  I can't tell you how much I learned about movies, about making movies, about filmmakers, watching cable television at this time.  This is my life.  My life is movies.  I eat them up like popcorn.  The Man with Two Brains was the first; turning it on just as the cable guy was leaving the premises – it was exotic.  On the screen, a buxom blonde with a ridiculous accent flashes her bare breasts at Steve Martin.  The cable guy acted like it was no big deal, but we never had cable.  We seriously didn't.  No cable television in Philadelphia.  My mother had a great job opportunity in Lebanon, Tennessee.  She had family down there, so we moved.  It was a higher quality of life (in theory, but not really).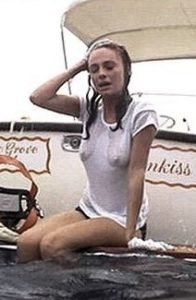 As the old saying goes, "If it's worth doing, it's worth over-doing." We got the premium (or deluxe) package. HBO and Cinemax (which would alternate premiere movies; sometimes HBO would get it first, sometimes Cinemax would get it first. Either way, and in lieu of a videocassette recorder, movies were repeatedly shown. Sometimes they would even be broadcast simultaneously, perhaps a couple of seconds out of sync, and with slightly different color gradients and schemes – HBO always seemed a tad bit brighter than Cinemax. We had The Movie Channel for a time as well, until my mother started assessing the bill. The Movie Channel was interesting. You would find unusual, even obscure films often programmed as retrospectives, and this is how I learned about filmmakers. You would see a handful of Brian De Palma films like Home Movies, Dressed to Kill, Carrie, and Get to Know Your Rabbit programmed alongside Scarface to coincide with that film's premiere. Alfred Hitchcock's Vertigo, Rear Window, Rope, and The Trouble with Harry were programmed to coincide with the 1984 re-release of those movies. This is why I can never get behind arguments (usually from older people) that TV rots your brain. I don't know what they're talking about. Film, in and of itself, is an education, and television was the vehicle (or the medium – per McLuhan) for this delivery system. Me not dumb! Good, write, good!
I had always wanted share my specific views and history of cable television in the early 1980s.  For a more in-depth analysis into the history of Pay TV and cable television, I suggest Ben Minotte's fabulous Oddity Archive.  I had the opportunity to interview (with Mark Jeacoma) Mr. Minotte for the VHS Rewind podcast.  He's an exceptional (and curious) fellow.  The other channels I remember from those times were CNN, Nickelodeon (and Nick at Nite), MTV, TNN (aka The Nashville Network), and WTBS (not just TBS – it was considered a "superstation", like Chicago's WGN), the local affiliates, and a couple of bizarre public access stations.  I remember flipping to one of those stations and seeing our landlord at the time, an old Baptist pulpit-punding minister, broadcasting his own show!  He seemed like a nice man, but he wouldn't allow us to keep any pets.  Nick at Nite was an astonishing find.  I discovered The Bob Cummings Show, Bachelor Father, The Many Loves of Dobie Gillis, and The Dick Van Dyke Show.  What I remember, in the days before cable television, the UHF stations in Philadelphia: channels 17, 29, and 48.  Channel 17 WPHL would run Star Trek and The Outer Limits.  Channel 29 (WTAF, later to become a FOX affiliate with terrible reception) would run Bewitched, I Dream of Jeannie, Gilligan's Island, The Beverly Hillbillies, and The Adventures of Rocky & Bullwinkle.  Channel 48 WKBS (which went out of business in 1983) would show Creature Double Feature on Saturday mornings and afternoons.  Sometimes, if your antenna was in a good position, you could get the Vineland, New Jersey UHF channel.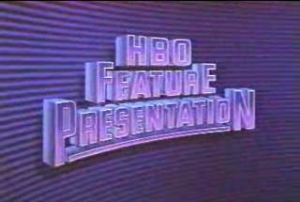 When I launched Vintage Cable Box on August 31 last year, I fully expected to begin the odyssey with Porky's, but Wes Craven's passing away over that weekend prompted me to change up my schedule, so I put out three reviews: Swamp Thing, Porky's, and Rodney Dangerfield's Easy Money. Looking at the reviews now, they seem more like perfunctory write-ups, descriptions of plots more than any true evaluation. I don't think I really kicked it into gear until The Osterman Weekend (September 23, 2016). My Big Chill review the following week I rate as one of my best. National Lampoon's Class Reunion was a sobering reminder that many of the movies I enjoyed as an eleven-year-old I could not stomach today. Some (very few) of these movies are absolutely horrible to watch. Class Reunion kicked off my first Halloween retrospective. I reviewed horror movies for the entire month and got my first big hit with my review of Amityville II: The Possession. Horror movies get great numbers for me.  What really sells today is nostalgia, and you could even look back on a failed movie, a terrible movie, and express some level of nostalgia or affection for it, but if you can't drum up that enthusiasm in yourself, it's not going to work for your readers or your listening audience.  I know I have this problem on occasion
Which brings me to those reviews I might have phoned in, because I couldn't get into it while loving it as a child, and then considering it some form of exquisite torture in my later years.  November brought me The Rosebud Beach Hotel and Charlie Chan and the Curse of the Dragon Queen.  December's Christmas cheer brought me The Man Who Wasn't There, but it also brought me my biggest hit, A Christmas Story (to be rivaled only by Midnight Madness).  I think the elements of popularity and nostalgia (not to mention affection) combine to bring about a newfound interest; it's not necessarily about how well you think you write.  If you are writing about something a reader has in the back of his or her head, that they remember, that they adore, you'll get a lot of readers.  Get Crazy, a movie that barely had a release yet exploded on cable television, made me think about some hidden gems; the over-budgeted movies that scam-artist financers would sell to investors from which they would pocket the difference and laugh all the way to the bank.  It's sort of like the plot to Mel Brooks' The Producers.  Other examples include Somebody Killed Her Husband and (perhaps) The House of God.
It's amazing to me how some movies hold up, while others are terribly dated and get worse with age.  I remember adoring Breathless, They Call Me Bruce?, and Jekyll and Hyde – Together Again.  Now I hate them.  I can't stand them.  In December, I launched a bit of a mini-series in that in appeared to me that several movies were being made at the time with writers as their central characters:  Deathtrap, Author! Author!, Romancing the Stone, Best Friends, and Romantic Comedy.  Nobody would ever dare make a movie about a writer these days.  Romantic Comedy would find it's way into my series about Dudley Moore.  Moore was all over cable television at that time.  Dudley Moore's particular skills revolved around his man-child characters, always unsatisfied, depressed, and yearning (or lusting) after women while negotiating his advanced years.  Sometimes, he would take a dramatic detour (Six Weeks), but those digressions were infrequent.  Mel Brooks' 90th birthday was coming up, and I remembered seeing several of his movies (in another wonderful Movie Channel retrospective tied to the premiere of his To Be or Not to Be remake) so I put together the four that received endless play.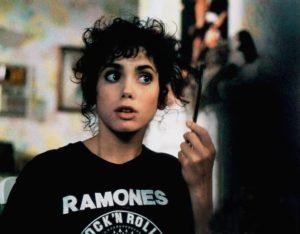 There are also the unexpected deaths that changed my schedule (as with my very first review).  I mentioned in my (very quickly cobbled together) review of The Woman in Red that Gene Wilder's passing forced me to rush that write-up.  I had originally planned to continue my articles up to the point we got the HBO satellite service in Philadelphia, and The Woman in Red would be featured.  The same situation forced me to publish a review for Garry Marshall's Young Doctors in Love.  After the death of David Bowie, I wrote up the review for The Hunger.  I have a schedule in place, and I tend to write reviews well in advance of publication for this very reason.  So what are we up to?  At last count, 74 reviews have been published.  I had initially expected to put out an article once a week.  I figure I have about another year's worth of material.  We'll see what happens, but this has been a wonderful trip back to my past, and I hope you (the readers) will continue this journey with me.
Our first cable box was a non-descript metal contraption with a rotary dial and unlimited potential (with no brand name – weird). We flipped it on, and the first thing we noticed was that the reception was crystal-clear; no ghosting, no snow, no fuzzy images. We had the premium package: HBO, Cinemax, The Movie Channel, MTV, Nickelodeon, CNN, The Disney Channel, and the local network affiliates. About $25-$30 a month.  Each week (and sometimes twice a week!), "Vintage Cable Box" explores the wonderful world of premium Cable TV of the early eighties.