Vintage Cable Box: Friday the 13th Part III, 1982

"Look upon this omen and go back from whence ye came!  I have warned thee!  I have warned thee."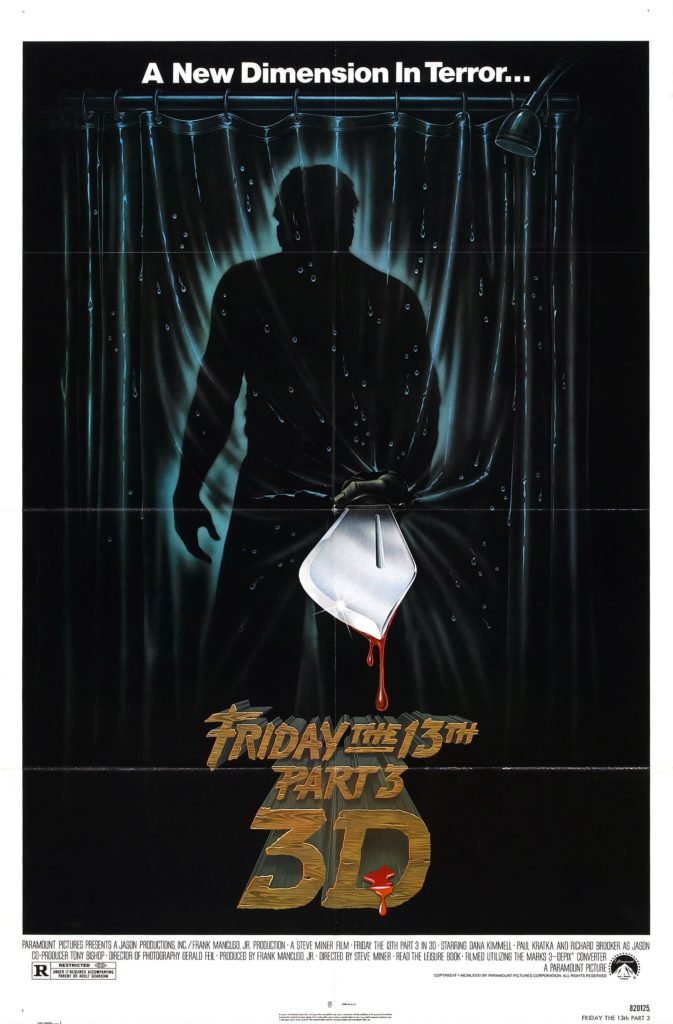 Friday the 13th Part III, 1982 (Richard Brooker), Paramount Pictures
We pick up right where we left off with the previous installment, and then I begin to suspect these opening scenes exist only to pad out the running time. Basically, we have Ginny (the survivor from Part 2, and, not coincidentally, a thoughtful and intelligent young woman) trying to pass herself as Pamela in order to confuse and delay Jason (now revealed to be the killer) so she can get away. There's a subtle character bit here with Jason that I neglected to mention in the previous review. When Ginny admonishes him for disobeying her, he cocks his head in a quizzical manner, as though he were a puppy who just heard an unusual noise. So Ginny escapes, we go back to the grotesque shrine of Pamela, and we're off to the races!
This is Friday the 13th Part III (in 3-D, as evidenced by the credits, but for some reason we're treated to a disco theme this time around). I'm assuming the credits are supposed to be smacking our faces if we're wearing the 3-D glasses, but here they mercifully stop before messing up my monitor. Phew! Steve Miner directs an immediate follow-up to the first sequel with the discovery of all the dead teens from Part 2. Jason is somewhere still out there, clutching a machete, and it isn't long before we get our first confirmed kill. This is the first sequel (in my worn-down memory, at least) to step up the action and get right down to business. We get the fake-out jolts, of course accompanied by Manfredini's violin stings (his score emulates Bernard Hermann's score for Psycho), but we also get a handful of enhanced shots for 3-D; snakes coming toward us, assorted weaponry, and a "clever" gag with a yo-yo. There's a refreshing amount of quiet that escalates the tension, because at this point we're waiting for Jason to strike.
After vanquishing an argumentative couple with a fondness for pets, we're introduced to the requisite teens with the van that's a rockin'.  These guys aren't as likeable as the previous batch, but it is admittedly easier to watch them buy a one-way ticket to the bone orchard.  I remember being somewhat upset and alarmed that Adrienne King was the first to go in the previous movie, but as I get to understand and appreciate the formula, I realize this is the only way to move forward in a franchise.  We can't have long-term heroes (or heroines) in slasher films.  It gets boring after a while.  This is evidenced by the on-again, off-again presence of Jamie Lee Curtis in the Halloween franchise.
The formula of the franchise represents a deviation from the first two movies.  These kids aren't camp counselors, but a group of old friends (though they don't act all that friendly with each other, the girls are somewhat bitchy to each other, and the guys are deliberately dense) spending a weekend together in a town that neighbors Crystal Lake.  They are menaced by a strange '80s version of a multicultural biker gang.  So, in addition to weathering the storm of Jason's vengeance, they have to deal with these idiots, who also swear vengeance.  There's a lot of vengeance in New Jersey, isn't there?  The biker idiots show up, attempting to rain on the kids' parade, but they get knocked off by Jason, in increasingly inventive ways, and it's interesting to note several of the killings are done off-screen.  While continuing to use POV shots for Jason, this is the movie in which we get to see more than just a few shots of him.  He dons the iconic hockey mask (as played by Richard Brooker) for the first time and shoots an arrow straight through a victim's eye!
Visually, the movie looks a lot better than most of the 3-D films being released at the time.  Earlier today, I wrote up my review for Jaws 3-D (which didn't look terrible, but it didn't look that great, either) and I was reminded of the terrible photographic process shots of the Steve Guttenberg nudie classic, The Man Who Wasn't There.  Shot on a budget twice that of the previous film, Friday the 13th Part III did a little better at the box office, but not quite as groundbreaking as the first movie in the franchise, but by this time, slasher films took over a good portion of the market.  Friday the 13th Part III is likely the last movie in the franchise to show Jason as a human being with physical vulnerabilities, unlike what he would eventually become: that of a super-human killing machine.
Next time, we take a look at the (allegedly) final chapter in the Friday the 13th franchise.  As we know, it doesn't really work out that way.  Thank you, Corey Feldman!
Our first cable box was a non-descript metal contraption with a rotary dial and unlimited potential (with no brand name – weird). We flipped it on, and the first thing we noticed was that the reception was crystal-clear; no ghosting, no snow, no fuzzy images. We had the premium package: HBO, Cinemax, The Movie Channel, MTV, Nickelodeon, CNN, The Disney Channel, and the local network affiliates. About $25-$30 a month.  Each week (and sometimes twice a week!), "Vintage Cable Box" explores the wonderful world of premium Cable TV of the early eighties.