Vintage Cable Box: Friday the 13th: The Final Chapter, 1984

"Die! Die! Die! Die!"
Friday the 13th: The Final Chapter, 1984 (Crispin Glover), Paramount Pictures
As is the course for the Friday the 13th franchise, we start with a clip show. This is like watching Happy Days, Family Ties, Friends or any number of sitcoms where the actors' contractual demands per episode outweighed any reason to shoot new episodes, so the producers would cobble together "flashback" episodes to complete production runs. We get a few minutes of the back-story. The dreamy camp coordinator from Part 2 sits his kids around a fire to regale them with the story of Jason. We go backwards to the old man and the "death curse", forward to Pamela's shrine, backward to Pamela's beheading, and forward to our previous survivor, character (actress) putting an ax in Jason's hockey mask.
Like Part III (in 3-D!) before it, we pick up the action right where the previous movie left off.  Cops in raincoats take all the bodies out of the crime scene (including Jason's) and off we go to the local hospital.  This time, we spend a good portion of the movie away from the camp, or any forest-like locale, which is refreshing.  You think it's going play like Halloween II (which took place in a hospital as well, which made it a little boring for me), but just as soon as Jason rises from the dead (the first traces of his super-human stature), and kills a couple of medical staffers (nice to know they're horny too, Jason works much better as a form of birth control than an instrument of vengeance), we're back at Crystal Lake, or at least within the vicinity.
Playing as a slight variation from Part III (in 3-D!), we have another group of friends off to spend a weekend at idyllic Crystal Lake.  Perhaps tragedy-plus-time equals comedy, so the locals aren't so crazy-ass nervous about the whole thing, but what is it about Crystal Lake that seduces teenagers to drink of it's pristine shores, or skinny dip, or engage in any other number of activities?  The archetypes are almost identical to the previous movie; you have the popular guy, the pretend- popular guy, the hotties, the dweeb (memorable Crispin Glover), and the virgin (her name escapes me).  We meet a friendly family: the Jarvises, a mother and her two kids, daughter Trish and little boy Tommy (Corey Feldman).  Tommy makes halloween masks and enjoys makeup effects, much like expert makeup artist, Tom Savini (who returned to work on this movie specifically so he could kill Jason).  He is a joy to watch in this movie, particularly when he's checking out the girls undressing through his bedroom window.
Meanwhile, there's a pair of cute twins looking to make life interesting for Glover and his douche-bag friend.  Tommy watches the gaggle of them swimming naked in the lake, and instantly becomes a man!  What with all the characters running around, I almost forgot we were watching a Friday the 13th movie.  Our favorite hockey player shows up right after Trish and Tommy meet tall, handsome hitchhiker, Rob (Erich  Anderson), who bonds with Tommy after seeing his eclectic collection of monster movie paraphenalia.  The screenplay briefly flirts with the idea of making Rob the killer, because of his similar build to that of Jason.  The teens party on, and Crispin does a ridiculous dance (think Elaine and her "full-body dry-heave" from Seinfeld) that is forever etched in my mind.  In addition, the ending is a better variation of the second movie's ending that has Tommy shaving his head to resemble a young Jason in order to distract and then murder him.  His story will continue in the next two movies.  Long live Tommy Jarvis!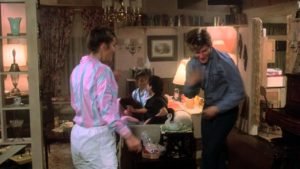 This is the movie I most remember (other than Part VI: Jason Lives) from the franchise, because, as it happened, The Movie Channel ran a marathon of the first three movies to mark the premiere of this sequel.  For some strange and spooky reason, I always watched this movie in quiet surroundings (at least until I watched it again for this review).  The first time I saw the movie, I was living in cricket-infested Tennessee.  Another time, I was upstate in Putnam County (with lots of freaking crickets).  One snap of a fallen tree branch and I was hanging from the ceiling fan, even though Jason never truly frightened me.  By the time this movie rolled around, he was almost a robot, an indestructible entity (regardless of what becomes of him at the end of this movie).  In the formula of how these movies were made, we have story, gruesome death, story, gruesome death – rinse and repeat, so you can pretty much tell what's going to happen next.  The fun was figuring out how the kids were going to die.
You can also sense the "cold war" of competing slasher movie enterprises.  In looking over the comparative histories of these franchises, I found several similarities.  Halloween was intended as an anthology series, as was Friday the 13th, until the producers changed their minds.  Similar concepts were brought out, such as The Burning (one shot in The Final Chapter imitates the famous canoe scene) and the Sleepaway Camp cycle.  Other concepts were direct parodies (though not marketed as such), like The Slumber Party Massacre and The Dorm That Dripped Blood.  Wes Craven's Scream franchise deconstructed the genre for a new audience, and in turn, caused a resurgence, resulting in self-referential films like Adam Green's Hatchet series.
I had a wonderful time catching up and reviewing the first four movies of this franchise.  It seems Friday the 13th (like Jason) will go on forever and ever.  The franchise was rebooted in 2009 (not a terrible movie, but lacking the D.I.Y. qualities and rough charm of the original movies) and produced by Michael Bay, who would also produce reboots of The Texas Chainsaw Massacre, The Amityville Horror, andA Nightmare On Elm Street.  It's sad to think we've rendered a particular era of filmmaking obsolete; most movies released these days are not temporary distractions and fun diversions, but full-blown epics with philosophical and psychological underpinnings that the audience must digest and process in order to get a sense of entertainment, or else they completely miss the boat.  Remember when movies were fun?
Next time, we look at the superior rat movie, Of Unknown Origin, starring the great Peter Weller!
Our first cable box was a non-descript metal contraption with a rotary dial and unlimited potential (with no brand name – weird). We flipped it on, and the first thing we noticed was that the reception was crystal-clear; no ghosting, no snow, no fuzzy images. We had the premium package: HBO, Cinemax, The Movie Channel, MTV, Nickelodeon, CNN, The Disney Channel, and the local network affiliates. About $25-$30 a month.  Each week (and sometimes twice a week!), "Vintage Cable Box" explores the wonderful world of premium Cable TV of the early eighties.