Vintage Cable Box: The Atomic Cafe, 1982

"We thank God that it has come to us, instead of to our enemies."
The Atomic Cafe, 1982, Libra Films
It was an unexciting, routine mission until they saw the damage. New Mexico, normally a parched, barren section of little Earth; sand and dust, before and after, shows no real effects until you throw in the half-constructed homes and livestock. The "Trinity" Test yields an image of great beauty, often repeated, but as beauty can be a drug with effects that diminish over time, the first mushroom cloud, the report of the first bomb detonation arouses the scientific community, and the first parties of people involved are labeled "mad-men" and "lunatics"; it's eerie and strange how those voices were silenced over the ensuing years.
Not long after, Harry S. Truman appears in newsreels announcing the destruction of two Japanese cities, Hiroshima and Nagasaki, which effectively end the war on the Asian continent.  The information is edited to remove the consequences of the attacks, but "The Atomic Cafe" pulls no punches.  We see the singed earth resting beneath stacks of bleached bones and graphic depictions of horrifying injuries sustained by the survivors.  The delicate sensibilities of pre-Eisenhower nuclear families that had no truck with unimaginable violence were too tender to witness the actual effects of the primary blasts, let alone the ash-ridden winters and radiation poisoning.
"PEACE!  It's Wonderful!"  This is the post-war boom of America; the prosperity and the marching majorettes, returning soldiers, and dancing in the streets.  Operation: Crossroads begins with the "Bikini" Test, July of 1946.  The natives of the island sing "You Are My Sunshine" as the bomb is dropped, and an unbelievable cloud appears over the island.  The next year (1947 – "The Year of Division"), a new cloud forms headlining the "global struggle between East and West."  In other words, Soviet Russia versus the United States.  The Cold War begins.
Propaganda films are quickly produced to demonstrate the threat of communism (like a virus) as it spreads throughout Europe and threatens to land on our shores.  Our "values," or "freedom of speech" will be diminished, censored, and destroyed, and ideas like "humanity" and "emotion" are considered obsolete in Soviet Russia.  To counter this philosophy, our propaganda sells capitalism to the hilt as an antidote to the concept of communism.  Americans are encouraged to buy products, visit newly-built shopping malls; eat, marry, and reproduce – beef up our numbers.  Truman warns of atomic tests in Russia.  Protective devices, including boxes, suits, and bomb shelters are tested and then sold.  The police are militarized.
In 1950, as our government has enormous confidence in the ability to end any war with an atomic bomb, Korea is invaded.  The populace remains uninformed as to the true dangers of these new war technologies, and this is where the programming starts – by misinforming the public.  A character actor I recognize as James Gregory appears in a training film, wherein those preaching peace are ridiculed by the Military and civilians alike.  Paranoia reigns supreme; the impetus of which seems to have started when the Russians began testing their own atomic devices and then Senator Richard Nixon suspected espionage.  Julius and Ethel Rosenberg are sentenced to death for selling secrets to the Russians.  These initial bursts of fear snowball, or mushroom into a full-fledged witchhunt.  HUAC proceedings begin, and those who question our government's actions, or display sympathies that go against the grain of nation-worship are blacklisted, their lives threatened and their actions monitored.
Ladies and Gentlemen – I give you the Hydrogen Bomb!  Even more awesome destruction is guaranteed, but Russia remains one step ahead and devlops their own Hydrogen bomb.  Testing of animals near bombing sites is accompanied by "Atomic Cocktail", a jaunty Django Reinhart-like ditty, and then there are badly-acted training films made to assauge and calm fears of devastation and radiation sickness.  Fallout shelters are constructed with emergency preparedness kits, and rudimentary haz-mat suits become the norm for fashion.  This new age of paranoia even has a mascot – Burt the Turtle.  Burt comes with his own theme song, "Duck and Cover."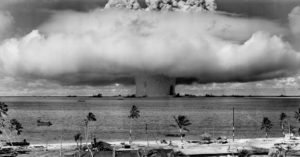 Produced at the absolute height of United States fear and suspicion, where even my generation was indoctrinated to hate Russia and the principles of communism and socialism, The Atomic Cafe is a devastating documentary comprised of newsreel footage, Military training films, and flimsy speeches about safety, and broadcast news, as well as preaching the doctrine of capitalism and false analogies of free speech, and religious exceptionalism.  I have friends (my age) to this day who still possess a strange, undeviated, irrational hatred (read: fear) of anything that is not uniquely American, including our system of government, accepted systems of religion, and finance.  Why?  Why would they still continue to feel this way?  If they (as I) feel that our Nation, our system of government, and our potential for wealth and prosperity are unmatched in this world, they should have no fear.  Yet, the dogma persists.
As Americans go to the polls tomorrow to elect a new President, keep this in mind (as evidenced by The Atomic Cafe): politicians yearn for war, but soldiers pray for peace.  Politicians thrive in division, to keep us fighting each other instead of questioning our government's practices.  Politicians exist to keep themselves employed; all of them, regardless of religion, race, or gender, with no exceptions, no Party rules, and no compunction about dropping mindless, soulless bombs on innocent people.  We're capable of so much more than this.  Keep that in mind.  Please.
Our first cable box was a non-descript metal contraption with a rotary dial and unlimited potential (with no brand name – weird). We flipped it on, and the first thing we noticed was that the reception was crystal-clear; no ghosting, no snow, no fuzzy images. We had the premium package: HBO, Cinemax, The Movie Channel, MTV, Nickelodeon, CNN, The Disney Channel, and the local network affiliates. About $25-$30 a month.  Each week (and sometimes twice a week!), "Vintage Cable Box" explores the wonderful world of premium Cable TV of the early eighties.